Greece Evacuates 19,000 as Wildfire Blazes on Island of Rhodes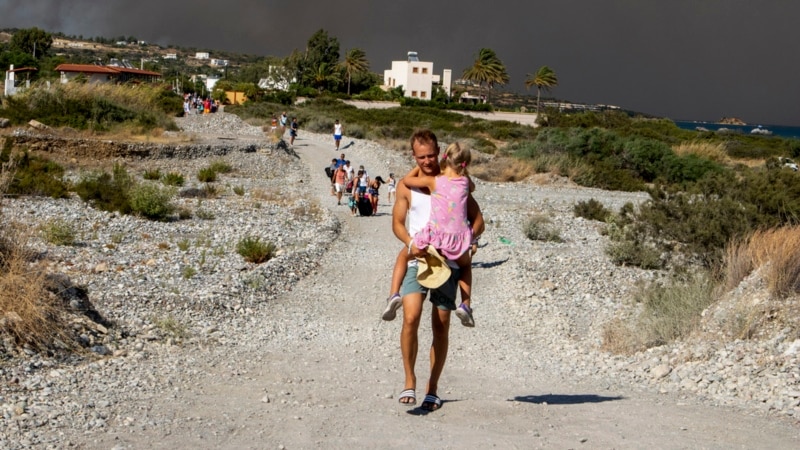 ATHENS, GREECE — Some 19,000 people have been evacuated from the Greek island of Rhodes as wildfires continued burning for a sixth day on three fronts, Greek authorities said Sunday.
The Ministry of Climate Change and Civil Protection said it was "the largest evacuation from a wildfire in the country."
Local police said that 16,000 were evacuated by land and 3,000 by sea, from 12 villages and several hotels, with no casualties. Six people were briefly hospitalized with respiratory problems and were later released.
On Sunday morning, 266 firefighters and 49 engines on the ground were joined by five helicopters and 10 planes – seven Greek, two Turkish and one Croatian to help put out the wildfire, authorities said. A further 15 engines are expected later in the day.
In the mountainous part of Rhodes, an active front of the wildfire, firefighters have been trying to stop the blaze from spreading to nearby dense forests.
Southwest of the resort of Kiotari, the main focus of Saturday's evacuations, a trench was being dug to keep the fire from crossing a creek and threatening another seaside village, Gennadi.
The weather remains hot in the Mediterranean country Sunday. Before midday, temperatures had already reached 38 C. Winds were low but are notoriously variable in Rhodes, as in other Greek islands.
Some of the evacuated, including tourists, are being accommodated in other hotels, gyms and a conference center. A shipping company has offered one of its ships for accommodation.
Managers from the evacuated hotels are seeking their former clients to get them in touch with their tour operators, authorities said.
Other island visitors have headed to the airport to try and fly home. Greece's ministry of foreign affairs has announced that it is coordinating with embassies to assist those who might have left their travel documents behind during the evacuation.
Authorities have designated an unprecedentedly large part of the mainland, the whole eastern part of central and southern Greece, plus the islands of Evia and Rhodes as well as large swaths of the southwest, as Category 5, the highest for risk of fire outbreaks Sunday. A further chunk of Greece has been designated Category 4, very high risk.
Temperatures are expected to reach 43 C in the capital, Athens, Sunday and 45 C in the interior plains of central Greece.