8 found dead off Senegal coast after migrant boat carrying 155 people capsizes
A migrant boat carrying about 155 people capsized as it headed to Europe from Senegal, according to the government Thursday.
The incident occurred days after 90 Europe-bound migrants traveling on another boat went missing off the coast of Saint-Louis.
The Atlantic migration route used by many Africans, including those from Morocco, Western Sahara, and Mauritania, is considered one of the deadliest maritime routes in the world. 
Eight migrants were found dead after a boat capsized off the coast of northern Senegal as it tried to reach Europe, the government said.
The bodies were recovered by the fire department and the navy and a search for survivors has been launched, Senegalese Interior Minister Felix Abdoulaye Diome said Thursday in the northern fishing city of Saint-Louis where the bodies were brought.
The director of the morgue in Saint-Louis, Mourtalla Mbaye, told The Associated Press that approximately 155 people were on board and many of the survivors were injured and receiving treatment in a military zone in the city.
Six bodies were brought to his morgue — all were men who drowned. It was unclear how many people survived and how many were still missing, he said.
RESCUE SHIPS SEARCH FOR HUNDREDS OF MIGRANTS OFF COAST OF GREECE FOLLOWING SHIPWRECK 
The boat, rescued Wednesday evening, comes days after seven others were found dead and 50 were rescued on a different vessel also bound for Europe and discovered off the coast of Saint-Louis. At least 90 people are feared missing from that boat.
It also comes after an announcement by Spanish aid group Walking Borders that around 300 people went missing in late June when three boats departed Senegal from two different cities.
The Atlantic migration route is one of the deadliest in the world, with nearly 800 people dying or going missing in the first half of 2023, according to Walking Borders.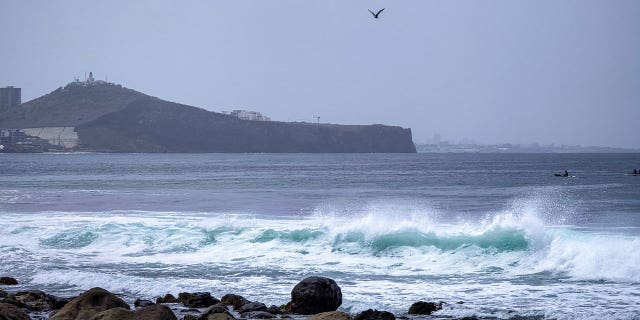 In recent years, the Canary Islands have become one of the main destinations for people trying to reach Spain, with a peak of more than 23,000 migrants arriving in 2020, according to Spain's Interior Ministry. In the first six months of this year, more than 7,000 migrants and refugees reached the Canaries.
The boats mainly travel from Morocco, Western Sahara and Mauritania, with fewer coming from Senegal. However, at least 19 boats from Senegal have arrived in the Canary Islands since June, the Spanish aid group said.
Factors such as ailing economies, a lack of jobs, extremist violence, political unrest and the impact of climate change push migrants to risk their lives on overcrowded boats to reach the Canaries. Last month in Senegal, at least 23 people were killed during weeks of protests between opposition supporters and police.
GREEK COAST GUARD DEFENDS ITS RESPONSE TO SHIPWRECK 
Ibnou Diagne got into a boat from the Senegalese city of Mbour on July 2 hoping to find a better job in Spain to support his family, he said. The 35-year-old Diagne was one of the survivors from the boat found earlier this week and spoke to the AP from Saint-Louis after being rescued.
"I wanted to have better living conditions, because it's difficult here to get a job," he said. He paid approximately $680 and crammed into a vessel bound for Spain with about 150 others.
The first few days of the journey were smooth, but then the boat ran out of gas and water and got lost between the border of Mauritania and Senegal, Diagne said. The passengers tried to contact fishermen from their city of Mbour and also Saint-Louis, but there was no phone network.
CLICK HERE TO GET THE FOX NEWS APP   
Shortly after people, started dying, he said. The first man who boarded the boat sick, died from an illness, while others were killed when the boat was broken apart after hitting the mouth of the river.
"I saw a boy dying, maybe he was 15 or 16 years old and I couldn't do anything to help him. He was hurt by a piece of wood," Diagne said. "It was absolute chaos."
Afraid of dying on the sinking boat, many people jumped into the water and tried to swim. Some of the passengers wanted to throw the dead overboard, but the captain refused, he said.
The boat was rescued from there by the Senegalese gendarme and brought to Saint-Louis.
Despite the suffering and the death he witnessed, Diagne says if he has another opportunity, he'd board another vessel bound for Spain.
"Without hesitation, if I find another boat I will try again," he said.