Burma's military government unveils giant sitting Buddha statue amid ongoing civil war and turmoil
Amid the ongoing civil war and turmoil in Burma, also known as Myanmar, the military-controlled government proudly unveiled a new massive sitting Buddha statue on Friday.
The statue, scheduled to be consecrated on August 1, stands as a symbol of nationalism in the deeply devout nation.
The site includes small pagodas, ordination halls, rest houses, water fountains, lakes, and a park, all surrounding the towering Buddha statue.
The military-controlled government of strife-torn Myanmar on Friday showed off a new giant statue of a sitting Buddha that is scheduled to be consecrated on Aug. 1, a powerful symbol of nationalism in a very devout nation.
Journalists were given a preview of the 228-acre site in the capital, Naypyitaw, which includes small pagodas, ordination halls, rest houses, water fountains, lakes and a park.
The military government's head, Senior Gen. Min Aung Hlaing, who is also the project's patron, supervised installation of various parts of the project, even as a civil war has raged, killing thousands, uprooting millions and causing vast destruction, including to Buddhist monasteries, Christian churches and Islamic mosques.
Min Aung Hlaing has been repeatedly quoted in state media as saying it will be tallest sitting marble Buddha statue in the world, a claim that is difficult to verify.
He also said the building of the Buddha image aimed "to show the flourishing of Theravada Buddhism in Myanmar, to be Myanmar as a focal point of Theravada Buddhism, ensure prosperity of the country and contribute to peace and stability of the world."
MOTHER ARRESTED FOR ALLEGEDLY STARVING, ABUSING HER DAUGHTER TO COLLECT INSURANCE MONEY: REPORT
The generals who seized power in February 2021 from the elected government of Aung San Suu Ky i are engaged in battles covering much of the country, with the army's vast advantage in manpower and weapons unable to subdue the pro-democracy resistance forces.
The army's fierce attacks, especially in the countryside, including burning down villages and displacing their inhabitants, make its efforts to win hearts and minds urgent, if also difficult.
The construction of the giant Buddha statues is common in the Buddhist-majority Myanmar.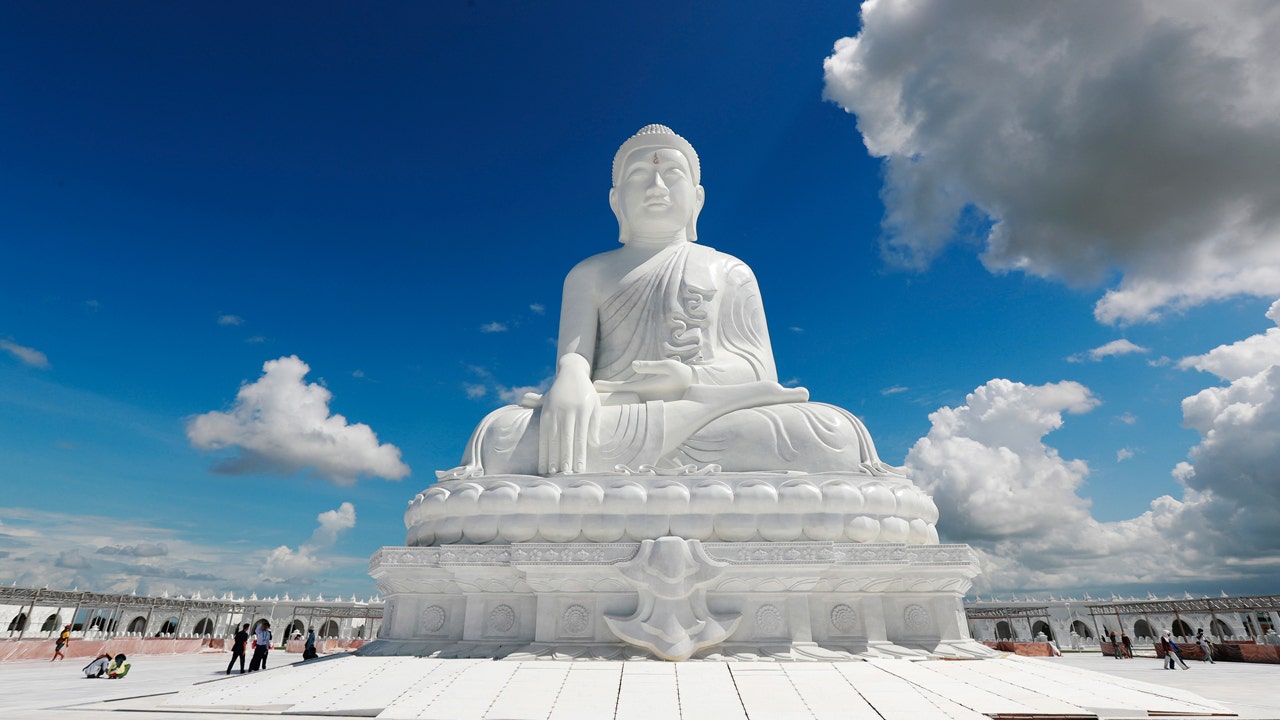 Generals who view themselves as the protectors and patrons of Buddhism have stepped up building pagodas and presenting offerings to highly-respected monks, which they believe will bring them religious merit as well as popular support. It also helps cement a long-standing alliance with right-wing monks who share their ultranationalist views and have their own followings, who can be mobilized for political action.
In 2009, under a previous military government, then military ruler Gen. Than Shwe consecrated the Uppatasanti Pagoda, a replica in Naypyitaw of the country's famous Shwedagon pagoda, which sits in Yangon, the country's biggest city. He also had a 37.7-foot-high sitting marble Buddha statue built in Yangon in 2001.
CLICK HERE TO GET THE FOX NEWS APP
Thein Sein, the general-turned-president who headed a semi-democratic military-backed government, had a 32-foot-tall standing marble Buddha statue built in Naypyitaw in 2015.
The new sitting Buddha, including its its throne, is roughly about 24.7 meters (81 feet) high and weighs more than 5,000 tons, according to reports in state-run media. It is carved in the traditional cultural style of the Yadanabon dynasty of the 18th to 19th centuries, the last before the country was colonized by the British.
Reporting on the project's progress last month to officials and big business backers, Min Aung Hlaing revealed that the plan to build the statue originated when Than Shwe handed over to the military in 2017 a giant piece of raw marble rock that was given him by a mining company.