By-elections: Rishi Sunak faces triple blow as polls close in three seats – including Boris Johnson's old constituency
Polling stations have closed in by-elections that could deliver a triple blow to Rishi Sunak.
The results from Uxbridge and South Ruislip in west London, Selby and Ainsty in North Yorkshire, and Somerton and Frome in Somerset, are expected in the early hours of Friday morning.
The three seats were left empty by outgoing Conservative MPs – former prime minister Boris Johnson, Nigel Adams, and David Warburton, who has been an independent since last year.
Follow by-election coverage live: Tories expect to lose all three by-elections, Sky News told
According to political editor Beth Rigby, Mr Sunak's party are bracing to lose all three constituencies.
A Conservative spokesperson said they knew the votes were always going to be "very challenging", especially "given the circumstances in which they were brought about".
It is common for sitting governments to perform poorly in by-elections, but it is also common for parties to talk down their chances, so they can frame a positive result as an unexpected success.
Mr Johnson had a majority of 7,210 when Uxbridge and South Ruislip was last contested at the general election in 2019, with Labour coming in second place.
Selby and Ainsty saw Mr Adams elected in the same year with a majority of over 20,000, again with Labour as the runner-up.
And Mr Warburton's seat of Somerton and Frome saw him get a 19,213 majority in 2019, though it was the Liberal Democrats who came the closest to him.
Did Labour fail to manage expectations in Selby and Ainsty?
Of the three by-elections, the result in Selby and Ainsty – a Labour vs Conservative contest – is the most interesting.
I'm hearing both sides hope they've won it – it's going to be close.
A Tory loss would mean Labour overturning the biggest ever Tory majority at a by-election – a record last set in 1990 in Mid Staffordshire.
I'm stunned Labour didn't do better expectation management – they allowed the (Tory) idea to take hold that a win was priced in.
They didn't push back at this very hard.
Now they're having to admit they don't know.
A Labour spokesman said they "don't know if we've made it over the line" – but claimed that "Keir Starmer's leadership of a changed Labour Party, back in the service of working people, has seen voters put their trust in us".
Christine Jardine, the Liberal Democrat Cabinet Office spokesperson, said: "If we succeed in overturning the huge 19,000 majority in Somerton and Frome, in what should be a safe Conservative seat, it would mark a watershed moment for the Liberal Democrats.
"It would prove yet again that in vast swathes of the country, from Somerset to Surrey, the best way to get rid of this Conservative government is to vote for the Liberal Democrats."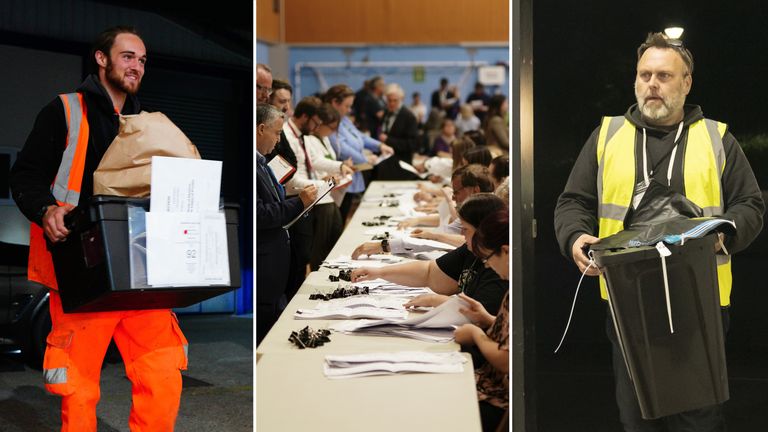 Ballot boxes began to be opened and votes counted from 10pm.
Results are not expected until the small hours of the morning at the earliest – especially if the results are close.