Aussie reality TV kissing rule exposed
Former The Bachelor star Jimmy Nicholson has revealed there was a surprising rule when it came to kissing in front of the cameras on the dating show.
The reality TV star cast his mind back to 2021, when he starred on the Network Ten program and found his now-fiancée, Holly Kingston.
Appearing on Married At First Sight star Al Perkins and Taku Chimwaza's Back To Reality podcast, Nicholson said it was a big no-no to use tongue when kissing in front of the cameras – and he found out the hard way.
"I didn't know that so I'm on there and they have the most aggressive close ups ever, it's just massive and you can just see your face from different angles," he recalled.
"There's the tongue and they include the gross mouth sounds."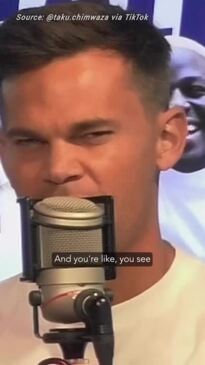 Host Chimwaza is no stranger to reality TV himself – the former footballer starred on Season 3 of Love Island Australia in 2021 – and agreed that tongues look really disgusting in close-up shots.
"Yeah man, they make you look like a Komodo dragon!" Chimwaza said, somewhat referencing the steamy kiss between Nicholson and Kingston that featured a lot of tongue.
Nicholson, who worked as an airline pilot prior to the show, said he was clueless when it came to kissing onscreen, so he just went for it.
The result is the now-cringe kissing scene he has with Kingston, which they laugh about to this day.
"Kissing on a reality TV show, I didn't know this at the time because I've never been into [reality TV] but Holly was well versed because she loves reality TV," he explained.
"So, no tongue is to be used when you kiss on a reality TV show. Otherwise, it looks disgusting."
Kingston, who also appeared on the podcast, took the opportunity to mock her fiancé's kissing style on the show.
After his hilarious re-enactment of their very passionate first kiss, she said: "You tried to stick your tongue in a few times!"
Three months after filming wrapped and Kingston got the final rose, the couple moved in together in the Sydney suburb of Bondi. Then, nearly one year after the show, they got engaged when holidaying in Sorrento, Italy, during a European getaway.
"FOREVER," they both captioned photos of the proposal on Instagram.