Dean of Canterbury defends Reverend who received 'misogyny' and abuse for her tattoos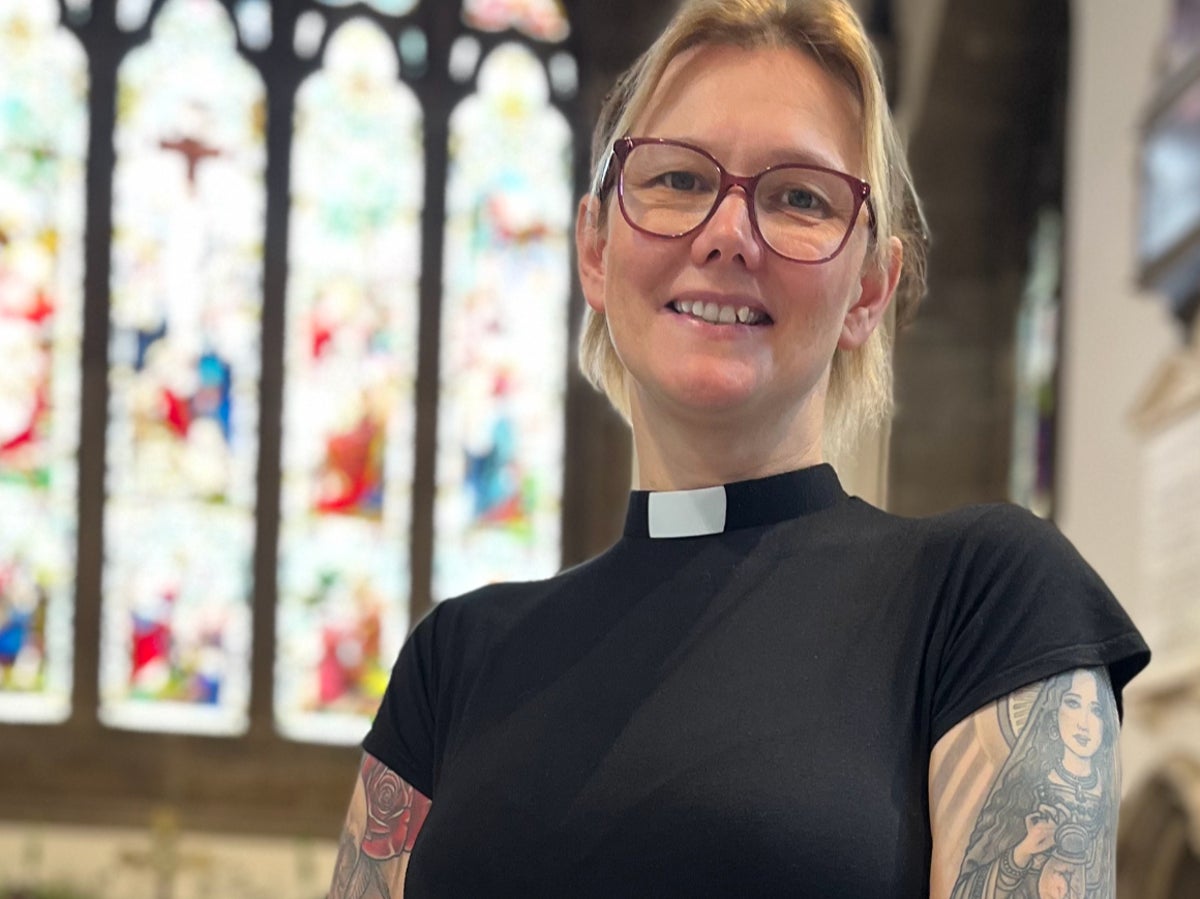 The Dean of Canterbury has come to the defence of a Reverend who received "misogynistic" abuse because of her religious tattoo sleeve.
Reverend Wendy Dalrymple sparked controversy after sharing a photograph in a short-sleeved, dog-collared dress that revealed her inkings.
It was to celebrate her new role as precentor at Canterbury Cathedral but sparked a backlash as online trolls criticised the tattoos.
People dismissed her as "prideful" and "vain" because of the artwork.
One person wrote on social media: "Why does the residentiary canon of Canterbury Cathedral think it's so necessary to make her tatts the most important thing about her, and in some way, her job?
"No problem with the tatts in private, but the peacock display here, in her official photo, suggests both pride and vanity."
Some people even complained that her clerical clothes were too tight.
Rev Dalrymple reposted a screenshot of the critical tweet, saying: "So not actually resharing but the thread that follows from this charming feedback accuses me of pride, narcissism, mental illness, being an idiot, not believing in God oh and having a top too tight that will distract men. How's your day going?"
But now David Monteith, the Dean of Canterbury, has spoken out in support of the reverend.
He said he wanted to address misogyny in the church and that he was saddened by the pile-on of abuse that Rev Dalrymple received.
The Dean tweeted: "We announced the appointment of our new precentor last weekend. Just so saddened by the abuse she has received.
"Determined to shape a cathedral which addresses misogyny, entitled power and prejudice because the love of Jesus requires that."
Rev Dalrymple will assume her post in autumn 2023 and she will help create the content of service.
She has just finished her post as Rector of All Saints with Holy Trinity Loughborough.
During her time in the Leicestershire diocese, the reverand turned the church into an Intercultural Worshipping Community.
Canterbury Cathedral said in a statement: "Canterbury Cathedral is delighted by Wendy's appointment, and we can't wait to welcome her to our community.
"Whilst the overwhelming majority of feedback to Wendy's appointment has been extremely positive, unfortunately there has been some online abuse about her appearance from a small number of individuals – sadly, a common experience for many women.
"This is unacceptable. As the Dean of Canterbury, the Very Reverend Dr David Monteith, tweeted in support of Wendy, we are 'determined to shape a cathedral which addresses misogyny, entitled power and prejudice because the love of Jesus requires that'."
Speaking about the negative reaction that some have expressed online, Rev Dalrymple said: "Sadly, the negativity was not a complete surprise as the online world can bring out the worst in people but it can also bring out the best.
"I don't tend to engage directly with those who hurl abuse from behind a keyboard but I think there are times when it is good to shine a light on the comments that people make.
"The many hundreds of messages I received of support including that of the Dean of Canterbury and my future colleagues more than make up for the silliness of the few.
"The best response was hearing from someone who said, on showing my picture to their tattooed daughter and son-in-law, 'they didn't know people like them were allowed in church, and now they do'.
"If I can go just a little way to help people from all backgrounds know that they have a place at the table that makes me happy."