Cheetah dies in India due to radio collar infection, raising more criticism against conservation project
An eighth cheetah death in India's Kuno National Park last Friday has raised new questions about a project that reintroduced the big cats to the country 10 months ago and has been mired in controversy since its inception.
The latest death was caused by an infestation under a cheetah's radio collar due to humid and wet weather conditions in central India, according to veterinarians from South Africa who is closely involved with the project.
The Indian government said the cheetah deaths being caused by an infection under their radio collar is "speculation and hearsay."
Maggot wounds, dehydration, infighting and kidney disease have been some of the causes of death of five adults and three of the four cubs born to a female cheetah earlier this year.
YELLOWSTONE NATIONAL PARK VISITOR SEEN TAKING SELFIE INCHES FROM BISON IN VIDEO
Earlier last week, another adult cheetah was found dead, likely also due to an infestation. Since then, local forest authorities are trying to tranquilize the remaining cheetahs to check for any diseases. Local media reports say a few more of the animals have similar infections.
One South African veterinary wildlife specialist who was instrumental to the animals' relocation said vets were treated like "window dressing" for the project — rather than being consulted about any health issues — until recently.
Adrian Tordiffe said things changed after Y.V. Jhala, an Indian scientist who devised the reintroduction program, was terminated from his role in the project in February.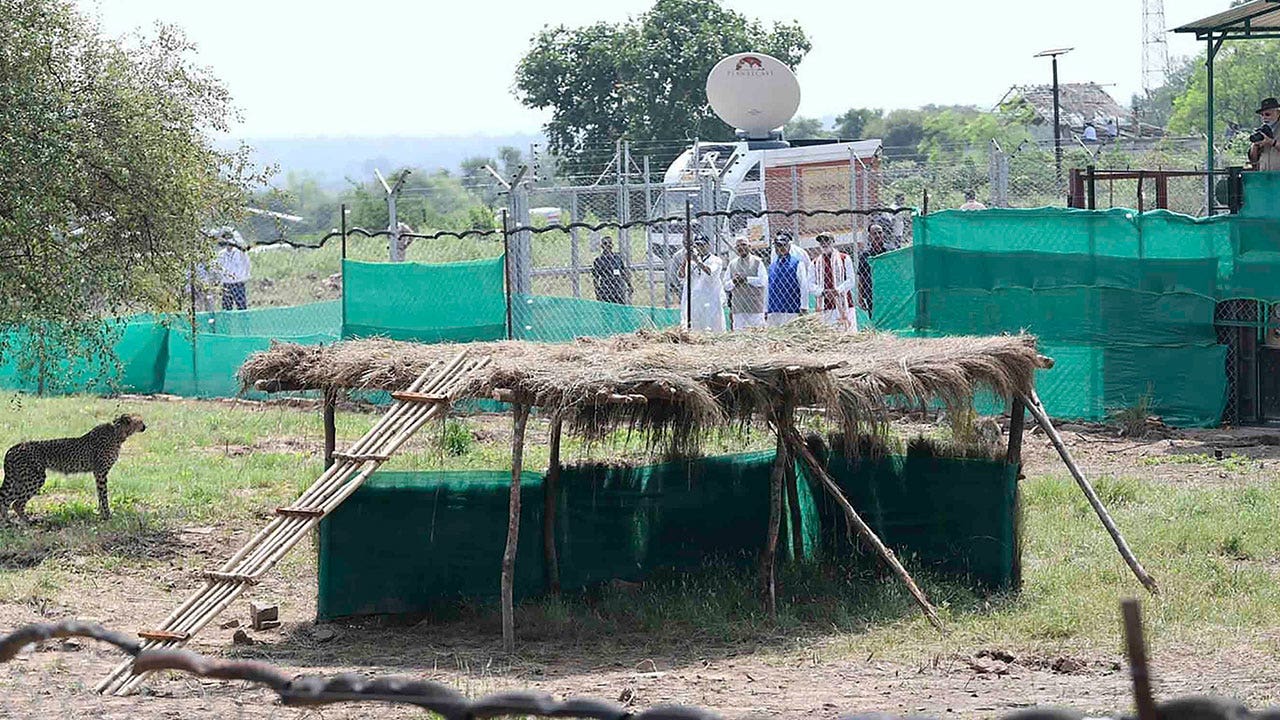 "Ever since Professor Jhala was suddenly removed from the project, the Indian authorities have completely shut us out," said Tordiffe. "This lack of information meant the diagnosis was delayed which potentially puts other cheetahs at risk."
In a press statement last week, India's environment ministry said consultation with international cheetah experts is done on a regular basis.
Tordiffe said communications between him and other scientists and officials has improved in the last few days.
"It's important to have a constant line of communication with people in Africa who have expertise with these animals," said N.V.K. Ashraf, chief veterinary officer at Wildlife Trust of India. "The cheetah will be a difficult species to relocate and make a viable population grow."
The project garnered concern even before the cheetahs' arrival on Prime Minister Narendra Modi's birthday in September last year when wildlife experts questioned the viability of the animals surviving in India.
Controversies around the project only increased as several of the animals died and many cheetahs strayed outside the national park only to be tranquilized and brought back repeatedly.
India's grasslands conservation policies — which include the relocation project — are "inadequate," said Abi T Vanak, of the Bengaluru-based Ashoka Trust for Research in Ecology and the Environment.
MAINE WILDLIFE AUTHORITIES FIND 6 DEAD WILD DUCKS THAT TESTED POSITIVE FOR BIRD FLU
The country enacted several conservation laws to protect wildlife in the 1970s, but these were focused on charismatic species like the tiger or elephant, and neither grasslands nor other species dependent on the ecosystem got the same protection.
"Most savannah grasslands continue to be classified as wastelands and that needs to change," Vanak said. "As things stand, this is shaping up to be a novelty project. Other endangered species could use all this attention and conservation funds."
Critically endangered species such as the Great Indian Bustard as well as other endangered species such as the black buck or Indian antelope, chinkara or Indian gazelle, the lesser florican and many other wildlife depend on the existence of Indian grasslands for their survival.
The national park where the cheetahs are at was also originally meant as relocation spot for lions from the Gir forest in India's western Gujarat state.
The lions are the last of the Asiatic lion species that once spread all the way to Iran. Scientists have long warned that the isolated population is at risk of extinction due to threats ranging from disease to climate extremes.
"To me this project is not about conserving cheetahs but rather stalling the translocation of lions," said Ravi Chellam, a wildlife biologist and conservation scientist with more than four decades of experience with big cats.
In April 2013, India's top court ordered that some lions from the Gir forest should be moved to Kuno National Park further inland within six months. The court also ruled that introducing African cheetahs to Kuno before the Asiatic lion is arbitrary and illegal and a clear violation of the statutory requirements provided under India's wildlife protection act.
The lions remain in Gujarat and plans are being reviewed.
CLICK HERE TO GET THE FOX NEWS APP   
Tordiffe, the South African veterinarian, is still optimistic about the cheetah project and said some deaths are to be expected.
"By no means are we at a critical level yet where the project is doomed to failure. But there are certainly areas where we must improve in terms of active management and if we do so, I still believe that the project can succeed," he said.
There are less than 7,000 adult cheetahs left in the wild globally, and they now inhabit less than 9% of their original range.
Speaking to The Associated Press in September last year, Vincent van der Merwe, manager of the Cheetah Metapopulation Initiative said the long-term goal was to have a cheetah population of at least 500 which meant sending up to a dozen animals every year to India from South Africa.
But at least 4,000 square kilometers of good quality habitat needs to be prepared before any more cheetahs are brought into India, Chellam said. The Kuno national park is 748 square kilometers.
"Lessons need to be learnt from the experience so far, so that we don't lose more animals," he said.