Internet can relate as dog siblings grow up to be complete opposites
A video of two dog siblings who appear to have "polar opposite" personalities has gone viral on TikTok.
The clip was posted five days ago by Little Monsters (@annabelle_and_norman), the TikTok account of the dog duo Annabelle and Norman. The video had over 426,000 views at the time of writing.
A message overlaid on the video reads: "POV [point of view]: You adopt two puppies from the same litter who grow up to be polar opposites." The footage shows Annabelle and Norman as puppies in a litter being fed by their dog mom.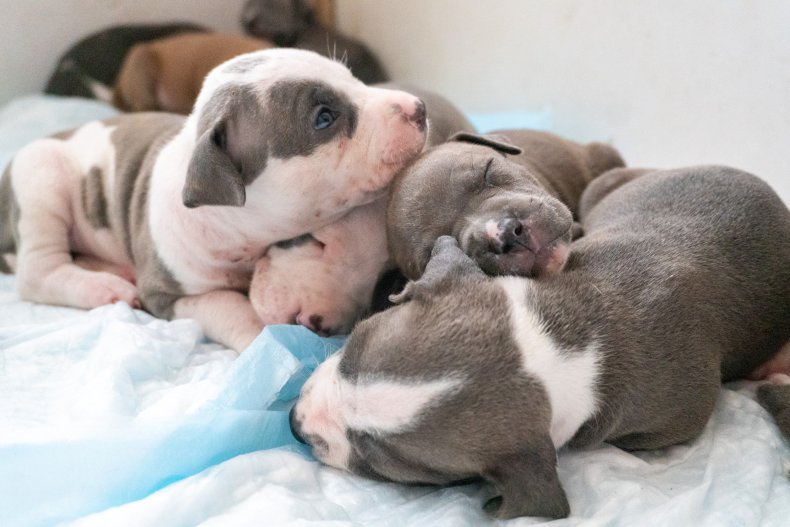 The diverging personalities of the dog pair in the latest clip come as no surprise since our canine friends each come with different qualities. An April 2022 study of more than 18,000 dogs, published in Nature, said it has been "long assumed that a dog's breed shapes its temperament."
However, "breed has much less to do with a dog's personality than is generally supposed," the study said.
"Chelsea Dagger" by The Fratellis played over the stitched videos showing the dogs, now older, one at a time. The first series of stitches showed "Her" (presumably Annabelle) being very active—raucously playing in a dog bed, jumping and barking in the house, going full zoomy in the grass, and generally living her best version of life.
In opposition to his sister's enthusiasm for activity, the next series of stitched videos show "Him" (presumably Nolan) sleeping in various positions on the couch, in a giant fluffy bed, and sunbathing on the deck with a hat on.
A caption shared with the post says: "One of each is better than two Annabelles."
Several TikTokers were delighted by the dog siblings in the latest post and several could relate to the scenario.
Stephanie Mcnicholas said, "I absolutely love them!! I'm glad they r getting along even tho they are liter mates" and the original poster replied, "They're very compatible."
Krod2013 wrote: "The Universe really said, 'yeah, these 2 will balance each other out'."
Brandi Pierce193 said: "I have 2 sisters. littermates. complete opposite."
User natural_bullys wrote: "we've 3 from a same litter an each of them if very different, 1 is hyper 1 loves cuddles an 1 just does his own thing."
User kylebutler675 said, "we adopted two female poodles who where litter buddies, and they are the same…"
Sophia Gustavson said: "I swear female dogs are always sassy and hyper and males just want to snuggle and be goofy lol [laugh out loud]."
Newsweek has contacted the original poster for comment via TikTok. This video has not been independently verified.
Do you have funny and adorable videos or pictures of your pet you want to share? Send them to life@newsweek.com with some details about your best friend and they could appear in our Pet of the Week lineup.