Hollywood Studios Say They Offered Actors $1 Billion in Gains Before Strike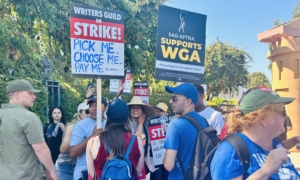 LOS ANGELES—Major film and television studios offered Hollywood actors more than $1 billion in higher compensation and enhanced benefits before the SAG-AFTRA union called a strike last week, a group that represents media companies said on Monday.
The Alliance of Motion Picture and Television Producers (AMPTP), which negotiates on behalf of Netflix Inc., Walt Disney Co., Warner Bros Discovery and others, said SAG-AFTRA "continues to mischaracterize the negotiations."
SAG-AFTRA called a strike last Thursday after union negotiators said they were unable to reach an agreement with studios on a new three-year contract with higher benefits and limits on the use of their images by artificial intelligence.
"The deal that SAG-AFTRA walked away from on July 12 is worth more than $1 billion in wage increases, pension and health contributions and residual increases and includes first-of-their-kind protections over its three-year term, including expressly with respect to AI," the AMPTP said in a statement.
"For SAG-AFTRA to assert that we have not been responsive to the needs of its membership is disingenuous at best," the AMPTP added.
Earlier on Monday, SAG-AFTRA, which represents more than 160,000 actors, stunt performers and others, issued a detailed list of its proposals, and what it said were the studios' responses, under the title "We're fighting for the survival of our profession."
Among them, SAG-AFTRA said it asked for an 11 percent general wage increase in the first year of the contract to make up for inflation. The union said the studios countered with an offer of 5 percent.
"We moved on some things, but from day one they wouldn't meaningfully engage on the most critical issues," SAG-AFTRA said.
The actors have joined members of the Writers Guild of America (WGA), which went on strike May 2 after failing to reach a deal with the AMPTP.
By Lisa Richwine