How feminists are catching up to Barbie: She's everything – and has always been subversive
The pink trailer for Greta Gerwig's clever, campy meta-comedy "Barbie" was viewed 42 million times on its way to becoming the top grossing movie in the country,  proving that the iconic doll is the hottest 64-year-old around. 
Not that her hard-won popularity has been universal. 
"Barbie was everything we didn't want to be . . . everything the feminist movement was trying to escape," Gloria Steinem said in the 2018 documentary "Tiny Shoulders: Rethinking Barbie." Yes,  as the movie lampoons: the original doll's infamous measurements are purported to be the  equivalent in a 5-foot-6 woman of 29-18-33 measurements with a size three shoe and feet arched for heels. Only 1 in 100,000 real women are this size, with a body fat ratio so low they couldn't menstruate, a symptom of anorexia. Furthermore, the miniature scale on 1965 Barbie's  Sleepytime Gal Slumber party was stuck at 110 pounds  (while the average woman weighed 140) and came with a mini Barbie book called "How to Lose Weight" containing two words: Don't Eat! 
Yet for six decades feminist leaders overfocused on Barbie's petite size, fashion flair and materialism, missing the bigger picture of how wildly progressive she was. Indeed, the film begins by mixing Mattel mythology with real-world sociology, satirically dramatizing the climate where Betsy Wetsy, Tiny Tears and Chatty Cathy baby dolls were used to indoctrinate girls into the selfless sainted role of motherhood – until Barbie showed up in a tight striped bathing suit in 1959. At a time when a woman couldn't even get a credit card in her name to buy a house or car without a father or husband cosigning, the revolutionary Barbie offered a more exciting life filled with possibilities. She was a teen model (and fashion designer, nurse, ballerina, singer, college graduate, astronaut and eventually president), with her own automobile and apartment, creating a prescient role model for little girls like me. I had 68 Barbies including a Black Christie, Francie and Julia. It was no accident that Barbie's inventor Ruth Handler, who'd been the victim of antisemitism, created dolls of color in the '60s, during U.S. race riots. 
Growing up in a conservative Midwest suburb with a stay-at-home mom, working dad and brothers who they encouraged professionally, I found Barbie to be the perfect subversive mentor. I couldn't wait to escape to college early and have autonomy, multiple careers, my own wheels and a cool pad I controlled —unlike my mother but just like Barbie.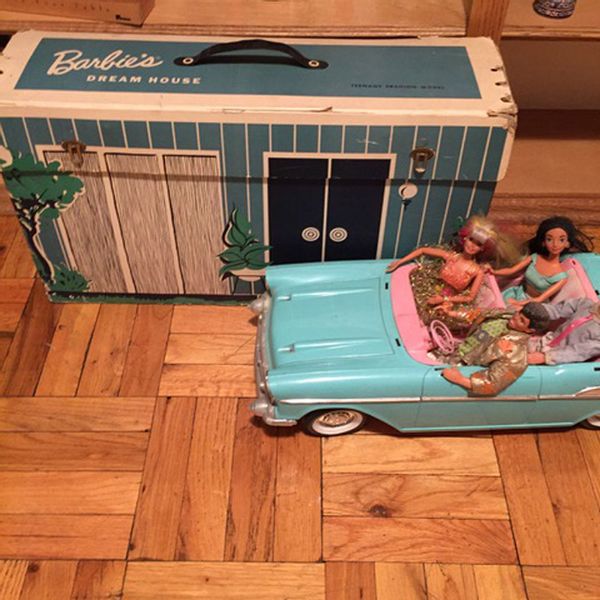 The author's Barbies in a car (Susan Shapiro)
Meanwhile there was a reason the 29-year-old Steinem became America's favorite populist feminist in 1963. We didn't choose the older Betty Friedan, "The Feminist Mystique" author who argued that women deserved the same pay and professional opportunities as men, the brilliant Congresswomen Shirley Chisholm or Bella Abzug, co-founders of the National Woman's Caucus. Instead the younger Steinem captured our collective imagination with one photograph: fully made up in her undercover bright satin Playboy Bunny costume and heels, she looked gorgeous and hot in a revealing outfit similar to Barbie's 1959 bathing suit debut.  Even in her street clothes,  Steinem's long silky hair, tinted glasses, bell bottoms and clingy sweaters perpetuated an alluringly sexy style; McCall's magazine called her "a life-sized counterculture Barbie doll."  That served her well, since we wanted a brainy woman as beautiful as Margot Robbie's Barbie. (We still do, even at 89, Steinem has 622,000 followers of her photogenic images in her  Instagram account and recently had a role in the "Sex and the City" reboot.) 
Steinem's Show Magazine exposé of Hugh Hefner's sexist culture was scathing, whereas the photos of her (which she posed for and popularized, republishing her piece under the title "I was a Playboy Bunny," later made into a TV movie starring Kirstie Alley) ironically led to her fame and rise as our most visible crusader for women's rights. Superficial yes, but this coincided with our voting the handsome JFK and fashionable Jackie into the White House, after the less appealing Nixon sweated on TV debates.
Despite a blind spot when it came to Barbie's body image, Ruth Handler was a trailblazer whose doll emulated her life. Ruth (played by Rhea Perlman in the movie), enjoyed dressing up, driving her own car, living in an L.A. apartment with girlfriends and holding a job at Paramount Pictures as a teen, decades before independent women were socially acceptable. She became a successful businesswoman happily married to her partner Elliot – whom she proposed to. She'd suggested a grown-up-looking doll after noticing her daughter Barbara playing with adult paper cutouts but was told they were too expensive to produce. She wound up modelling Barbie after a German sex toy,  naming her and Ken after their two children. Handler knew that a woman could love work, men and marriage – and also want to dress up, use lipstick and look pretty. This was – and still is – representative of a large part of women that the women's movement tends to overlook, ignore or vilify.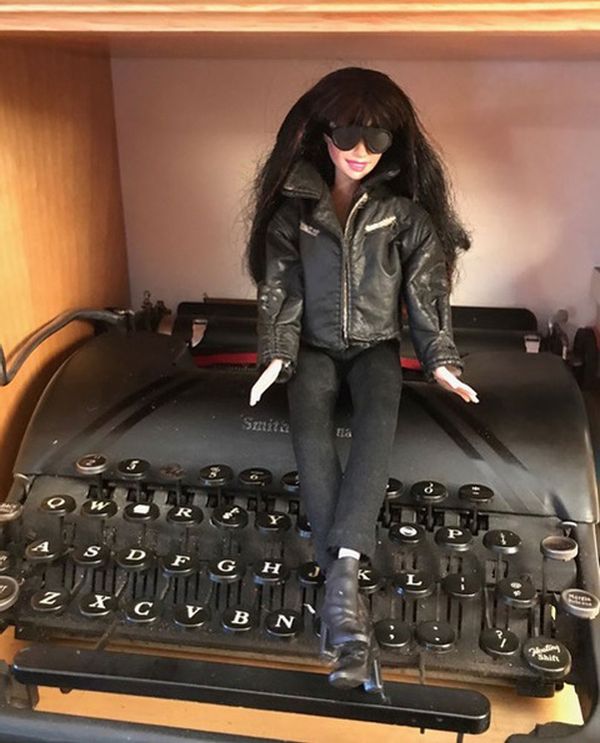 A Barbie the same age as the author, hanging out on a typewriter (Susan Shapiro) 
As critics misjudged Barbie, modern women still harbor misconceptions about feminism. In 25 years of teaching college in Manhattan, I've been dismayed by female students who strive for the same pay, power and work status as men but don't want to be seen as feminist. When I've asked why, they've implied that their interest in beauty, shopping, a fairy tale wedding or white picket fence was antithetical to the women's movement. A 2020 poll showed that only 61% of women identified as feminists, while others called the word polarizing and outdated. However, you can be a be a stay at home mom and be a feminist.  Or a workout fanatic who gets plastic surgery (Jane  Fonda). Or a famous musician in glittery leotards who is married with three kids (Beyoncé). Or a woman with her own TV show married to a woman (Ellen). Or a bombshell comic actress  showing off cleavage as the  highest  paid woman on TV (Sophia Vergara.) Or an unmarried entrepreneur whose favorite thing is a $2,000 TV that morphs into a painting (Oprah.) As activist Audre Lorde noted, "There is no such  thing as a single-issue struggle because we do not  live single-issue lives."  
In "Tiny Shoulders" social commentator Roxane Gay, author of the bestselling "Bad Feminist," held up one of Mattel's curvier New Body Type dolls introduced in 2016 and said, "I'd like to see an actual fat Barbie." Still, she admits the new dolls are "a step in the right direction." So are the Barbie "Sheroes" line paying tribute to Frida Kahlo, Katherine Johnson, Chloe Kim, Bindi Irwin, Ava DuVernay and Eva Chen. According to Maya Angelou (an Inspirational  Barbie herself since 2018)  "When you know better, do better." Thirty-nine-year old Greta Gerwig's self-knowingly ironic $145 million dollar PG-rated extravaganza is similarly all-inclusive: Robbie shares the screen with Ryan Gosling, Hari Nef, Dua Lipa, Simu Liu, America Ferrera, Ncuti Gatwa, Issa Rae as President Barbie and a hilarious Kate McKinnon as Weird Barbie,  punctuated with Dame Helen Mirren's knowing narration.  
Despite Ryan Gosling's showboating performance, this winning motion picture plays with and  parodies the fact that Ken was only Barbie's boyfriend, never the boss, the husband or star.  Ruth Handler made sure Barbie never officially wed or had children. It reminds me of the line my (long-married female) therapist told me in graduate school that I still live by as I celebrate my 27th anniversary: "Love doesn't  make you happy. Make yourself happy." Barbie's popularity is undiminished because, unlike most  young women, she's the one in the spotlight, the man just an afterthought or sidekick because she sometimes needs a  date. This becomes the focus of the rom-com with no rom, which replaces the notion of an amorous happily ever after with self-empowerment, never  betraying its tagline: "She's everything. He's just Ken." What better message for little girls — or big ones?