IN-DEPTH: 'Just Cause' Policies Benefit Tenants, but Landlords Say They 'Just Cause' Problems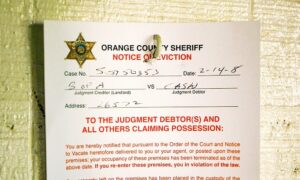 'It's a state government takeover of private property,' a landlord representative said
While the director of a tenants association says "just cause policies benefit tenants," the president of a landlord's association insists they "just cause a lot of problems" for landlords.
"Just cause" eviction policies are designed to prevent random, retaliatory, or discriminatory evictions by ensuring that landlords can only evict a tenant for specific reasons, such as failure to pay rent, intentional property damage, or refusal to comply with the terms of the lease.
Tenant advocates insist that just cause policies protect tenants from unjust evictions and costly rent hikes. Conversely, landlords say just cause policies make it difficult to get rid of problem tenants and reduce the number of available properties by discouraging owners from offering their properties for rent.
Since 2019, California, Oregon, and Washington have adopted "just" or "good" cause policies. Washington D.C. and cities like Baltimore, Boston, and Philadelphia have adopted just cause measures as well.
While just cause eviction requirements in San Francisco and New York City (pdf) apply only to units that are rent-regulated, just cause requirements in Washington D.C. and New Jersey apply to all rental units.
If a landlord evicts a tenant in Portland, Oregon, without cause or forces a tenant to move because they raised the rent to an unaffordable level in excess of 10 percent, they are required to pay the tenant's moving costs.
In Seattle, just cause eviction protections also apply to month-to-month tenancies and verbal agreements.
In Philadelphia, tenants can challenge an eviction notice through the court or the Fair Housing Commission, and while the case is being deliberated, the eviction notice is considered invalid.
With the sunset of the federal COVID-19 eviction moratoriums, as more tenants lose pandemic-era welfare benefits, and as the costs of rent continue to escalate across the country, just cause protections are likely to be expanded and tested. A study by researchers at Princeton University shows that, while evictions fell sharply during the COVID-19 pandemic, they have returned to or exceeded normal levels in many places.
'Night and Day'
On May 10, 2021, Washington Gov. Jay Inslee signed HB 1236 (pdf) into law, "Protecting residential tenants from the beginning to end of their tenancies by penalizing the inclusion of unlawful lease provisions and limiting the reasons for eviction, refusal to continue, and termination."
Terri Anderson from the Tenants Union of Washington State told The Epoch Times that "just cause policies benefit tenants because, without 'just cause,' landlords don't have to have a reason to evict a tenant."
However, she refers to the tenant protection measure as the flawed just cause law, because at the last minute, the state Legislature voted in an amendment that renders the law applicable "only to tenants who have a month-to-month contract," she said.
"Tenants who have a fixed-term lease can still receive a notice that their lease will not be renewed," she said, adding that "the difference between 'cause' and 'no cause' is night and day."
But just cause ordinances can be a double-edged sword for renters.
Before just cause ordinances, the only reasons a landlord could force a tenant to vacate in Washington state was failure to pay rent or failure to abide by the rules in the lease, Ms. Anderson said.
"When you pass just cause, you add just causes," she explained. "In Washington State, we've added that if it's a single-family unit and a landlord wants to sell it, they can evict the tenant."
Another just cause in Washington is if the landlord wants to do substantial rehabilitation that would require the tenant to vacate the building for that work to be done, Ms. Anderson said.
However, she advised that those who want to rent, or tenants who are planning to relocate, should familiarize themselves with just cause laws as they will vary in the states and cities that have adopted such policies.
"No cause evictions are devastating for tenants," Ms. Anderson said, suggesting that without just cause ordinances, tenants could never form a tenants association in their building to collectively address condition issues, which is one of the main reasons tenants want to organize.
"A tenant's biggest issue is getting repairs made on a timely basis," she explained. "They want to live in decent, healthy, safe housing, and no-cause evictions make it very easy for landlords to ignore requests for repairs because tenants are too afraid to call authorities to force repairs because they know they will get evicted without cause. They would rather live in substandard housing rather than risk being evicted. That's what happens without just cause. That's why we fight so hard for just cause eviction laws."
'The Biggest Detriments'
With the passage of Assembly Bill 1482 in California, otherwise known as the "Tenant Protection Act of 2019," landlords in the state are restricted on the reason they can evict a tenant as well as the amount and how often they can raise a tenant's rent. A 2019 Princeton University study of just cause ordinances in four California cities found that the policies were effective in decreasing eviction.
As explained by the California Rental Housing Association, there are 11 reasons a landlord can evict a tenant. These "at fault" just causes include failure to pay rent, breach of the lease term, criminal activity, subletting the unit, refusing to allow owner access, and using the unit for unlawful purposes.
Four "no-fault" just cause rules cover situations in which a property owner wants to remove the property from the market, plans to raze the property, is complying with a local ordinance or court order, or if the owner wants to move into the unit or have a direct relative move in. In those cases, only the owner's spouse, domestic partner, children, grandchildren, parents, or grandparents can be considered.
Unlike in Washington state, California's just cause law does not allow a landlord to evict a tenant if they want or need to sell the property.
According to Chris Airola, this is "the most damaging aspect of just cause for a landlord."
Mr. Airola is the CEO of RentPros, a leader in the property management business in the greater Sacramento area for over 30 years. He is also the president of the California Landlord Association.
"According to California's rules, selling the property is not a just cause for removing tenants," Mr. Airola told The Epoch Times. "When owners want to sell a property, the tenants come with it, and the new landlords are not allowed to increase the rent more than the cap. This is really one of the biggest detriments I see with just cause."
Rent Controls
As explained by the California Rental Housing Association, landlords in California can raise rent by 5 percent, up to two times within a 12-month time frame. They may also increase rent according to the applicable consumer price index (CPI) or by 10 percent, whichever is lower.
If the rent of a unit is far below market value, a landlord can raise it to current levels after a tenant voluntarily vacates the property. However, once a new tenant moves in, all future rent increases are subject to the 5 percent rent cap. Because rent on units occupied by long-term tenants is forced to stay below market value over the term of the lease, most landlords take advantage of the vacancy to hike the rent before another taking on another tenant.
For the past 25 years, Mr. Airola said the average rent increase in the greater Sacramento area had been about 4 percent. Subsequent to California's rent control rules, the average rent hike has been about 20 percent. A study by Realtor.com found that the Sacramento area had the fifth fastest rent spike in the country in 2021, increasing by 19.5 percent.
Problem Tenants
Another problem Mr. Airola finds with just cause policies is "when you end up with a problem renter" in a multitenant property like a duplex or an apartment complex, in which the problem tenant's behavior is so bad that the other tenants "can't coexist."
Mr. Airola recalled one tenant who was a substance abuser and would sit outside of his unit making vulgar comments to other tenants who passed by, particularly to the females.
Despite multiple complaints from tenants, with some filing restraining orders against him, Mr. Airola said, "We couldn't get rid of him."
"We went to court twice on this and both times the judge said he didn't see just cause because a tenant being disruptive to the community is not just cause," Mr. Airola explained, recalling how, "the judge said it was free speech."
"So what happened is the good tenants moved out," Mr. Airola said. "All of them left, leaving one unit occupied, the one with the rude tenant. Now, whenever we try to show the property to a prospective new tenant, there he is."
Mr. Airola also noted that "tenants who are out there marching and protesting for rent control" will be the same ones protesting because he can't get rid of a rude tenant.
Housing as a Right
"As a society, we are very ignorant when it comes to the details of things like this," Mr. Airola explained. "Just cause may have its place in some arenas and in some situations. But for the most part, it's a state government takeover of private property."
While the just cause laws do allow a property owner to evict a tenant for nonpayment of rent, and when they plan on tearing down the property, there are other rules that make the eviction of a tenant a lengthy and costly process.
"If a tenant doesn't pay rent I can evict them," Mr. Airola said. "But where it used to take three to four weeks, now we're lucky if it's four to five months. Then let's say I have a building I want to tear down. That would be a no-fault eviction. But now I have to pay relocation fees."
There's also the matter of new builds. There won't be new builds because the owners know they can't get their money back, he said.
While California legislators and "just cause" advocates "don't quite come out and say it just yet," Mr. Airola insists "they're pushing toward the notion that housing is a right."
Organizations like the United Nations, the Socialist Alliance, and the National Homelessness Law Center (pdf) have already declared that housing is a human right
"If housing is a right," Mr. Airola says "it should be provided by the government" rather than by private property owners.