'Like A Mobster': Joe Scarborough Rips Trump's Menacing Remark About Potential Jail Time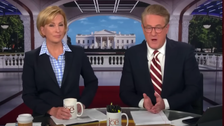 MSNBC's Joe Scarborough tore into Donald Trump on Friday after the former president said it would be "dangerous" for special counsel Jack Smith to send him to jail.
Trump had told an Iowa radio station this week that the possibility of jail time is a "very dangerous thing to even talk about, because we do have a tremendously passionate group of voters — much more passion than they had in 2020 and much more passion than they had in 2016."
Scarborough said Trump was "talking like a mobster."
"He's just so stupid," the broadcaster said on his "Morning Joe" program. "He's going up against the feds. He doesn't understand that he can't bully and bluster and threaten his way out of criminal charges that are coming, because he broke the law."
Trump whipped his voters into a frenzy after losing his 2020 reelection bid, ultimately inspiring a number of them to lay siege to the U.S. Capitol on Jan. 6, 2021, in an attempt to keep him in power.
Smith, who is investigating that incident and Trump's handling of classified materials after leaving office, recently sent the former president a letter informing him that he's a target of the Jan. 6 probe.
The move indicates that Trump could soon be charged in the case.
Last month, a federal grand jury indicted Trump on 37 felony counts in the documents investigation, alleging that the former president improperly took and stored classified materials, intentionally obstructed efforts to retrieve them and risked national security.
"He's going to be charged for some of the most serious crimes in America," Scarborough said on his show. "And his response, instead of talking to his lawyer, saying, 'Hey, get me a deal, because they got me dead to rights, my own people are the people testifying against me' ― instead of that, he goes on an Iowa radio show and, like a mobster, threatens Jack Smith."