Kamala Harris criticises 'extremists' in Florida for new curriculum suggesting some benefitted from slavery
Kamala Harris said "extremists" want to "replace history with lies" after Florida's educational standards changed the way slavery will be taught in schools.
The vice president travelled to Jacksonville on Friday to condemn new guidelines, approved by the state's board of education this week, which she said include instructions for middle school students saying some enslaved people benefitted from the skills they learned.
"They dare to push propaganda to our children. This is the United States of America. We're not supposed to do that," she said.
"Adults know what slavery really involved. It involved rape. It involved torture. It involved taking a baby from their mother. It involved some of the worst examples of… depriving people of humanity in our world.
"How is it that anyone could suggest that in the midst of these atrocities that there was any benefit to being subjected to this level of dehumanisation?"
While she did not mention Republican presidential candidate and Florida's governor, Ron DeSantis, by name, she referred to "extremist, so-called leaders".
Mr DeSantis, who has battled the Walt Disney company over its criticism of a law in his state banning the discussion of sexuality and gender in the classroom, said the new curriculum was needed to prevent liberal indoctrination and accused Ms Harris of attempting "to demagogue" and politicise history.
He said he was not involved in devising the education board's standards but defended the parts about how enslaved people benefitted.
But he added: "I think – I think what they're doing is, I think that they're probably going to show some of the folks that eventually parlayed, you know, being a blacksmith into, into doing things later in life."
He continued: "These were scholars who put that together. It was not anything that was done politically."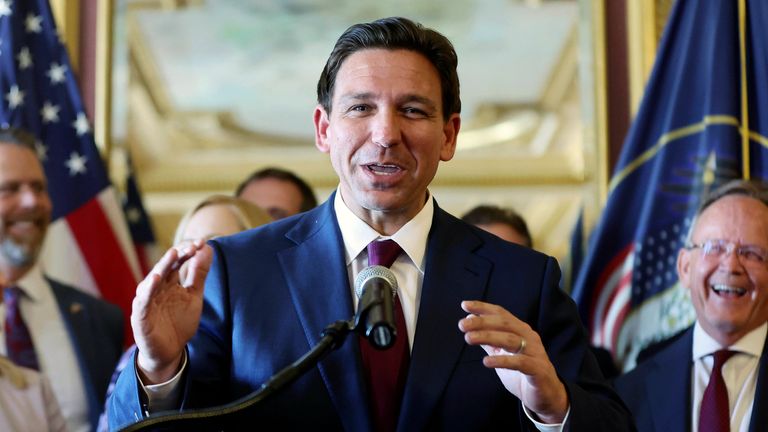 In a statement, the governor also said: "Democrats like Kamala Harris have to lie about Florida's educational standards to cover for their agenda of indoctrinating students and pushing sexual topics onto children.
"Florida stands in their way and we will continue to expose their agenda and their lies."
Ms Harris, the first black person to serve as vice president, spoke at the Ritz Theatre and Museum in the historically African-American neighbourhood of Jacksonville.
She described "true patriotism" as "fighting for a nation that will be better for each generation to come" and said schools would better prepare students for the world if they don't gloss over historical crimes.
Click to subscribe to the Sky News Daily wherever you get your podcasts
"Let us not be seduced into believing that somehow we will be better if we forget," she said.
"We will be better if we remember. We will be stronger if we remember."