Leo Varadkar meets Ukrainian actor in Kyiv after Dublin assault | BreakingNews.ie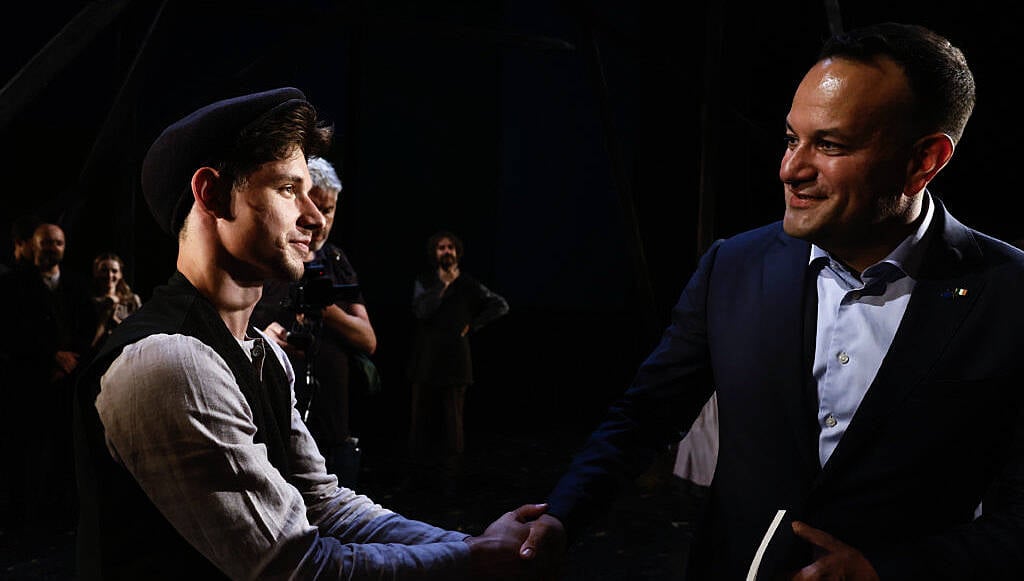 Taoiseach Leo Varadkar has told a Ukrainian actor in Kyiv who was assaulted in Dublin last month that he is "sorry for what happened".
Oleksandr Hrekov was attacked in Dublin city centre shortly after performing at the city's Abbey Theatre.
He was part of a Kyiv theatre company that had travelled to Dublin to put on a production of Translations by Irish playwright Brian Friel.
The actor required stitches in hospital after what Ireland's national theatre called an "unprovoked, random act of mindless violence".
Mr Varadkar visited the Lesya Ukrainka National Academic Drama Theatre company in Kyiv on his visit to the Ukrainian capital on Wednesday.
They performed a song for the Taoiseach before presenting him with a copy of Translations signed by the cast.
Mr Varadkar then spoke to Mr Hrekov, shaking his hand and enquiring about his well-being since the assault.
He asked if the actor was doing OK, to which Mr Hrekov replied, through a translator: "Yes, everything is fine, everything is perfect."
The Taoiseach said: "I'm sorry for what happened. Dublin is my home town, but sometimes not 100 per cent safe, unfortunately."
The young actor's reply was: "All places are like that."
At the time of the attack, the production of Translations in the Abbey Theatre was described by Minister for Culture, Catherine Martin as "an expression of the solidarity of the Irish people with the people of Ukraine".
Mr Varadkar told the Kyiv theatre company that he hoped the group's performances at the Abbey could continue.
"Perhaps we can have an Irish company come here and perform here as well," he told performers at the Lesya Ukrainka National Academic Drama Theatre company.
"We were talking about this earlier, but I know from our history theatre and art was a very important part of our national identity, because we were part of the United Kingdom, and we were almost overwhelmed by English culture.
"Art and music and language and theatre was very important for us in protecting our Irish identity and I know in Ukraine you are fighting now to affirm your identity as a nation, and I think the arts is a very important part of that too."