Medal launched to honour Britain's 'unsung humanitarian heroes' in disaster zones
A new medal has been launched to honour the "unsung heroes" who provide aid during major disasters and emergencies, such as floods and earthquakes.
The Humanitarian Medal, which has been approved by the King, will be awarded to emergency workers and relief teams, including charities, military personnel and medical staff, who respond to crises at home and abroad.
This could range from natural disasters, such as tsunamis and hurricanes, through to war zones and epidemics.
Heatwave latest: Holidaymakers evacuated from Rhodes as wildfires rage
The government point to the civilian and military response to Ebola outbreak across West Africa in 2015, which the UK marked with a bespoke medal.
Eligibility for the Humanitarian Medal will be for those providing assistance on behalf of the UK government, but will not be restricted to British nationals.
Deputy prime minister Oliver Dowden said: "Britain has a long and proud tradition of being first in line to help those in need, wherever they may be in the world.
"This new medal is a fitting tribute to our humanitarian heroes who put the needs of others before their own, often in the most challenging or dangerous environments."
Read more on Sky News:
Trying to escape Rhodes wildfires 'was literally like the end of the world', says UK tourist
Paul Pogba's 'goal' to end poverty as footballer launches new fund
International development minister Andrew Mitchell said: "At a time when the world faces increasing crises, this new Humanitarian Medal recognises the unsung humanitarian heroes who go above and beyond to provide aid when disasters hit.
"I applaud the efforts of those who show such courage and serve as inspiration in a range of desperate situations.
"Our work around the world depends on these extraordinary people, and this award honours their outstanding contribution in responding to a major crisis."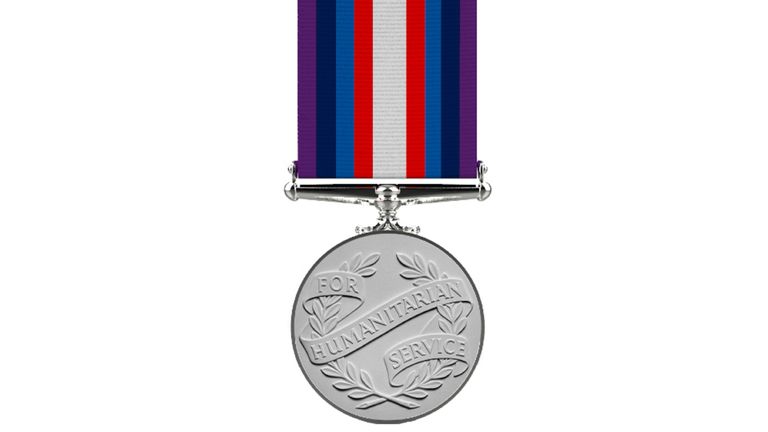 The medal's design features an image of the King on one side and the words "for humanitarian service" on the other.
It is decorated with a multi-coloured ribbon which aims to reflect "the different paths for humanitarian service and the variety of services involved in such responses", according to the Cabinet Office.