Miscarriage care will change to tackle 'final taboo' and ensure baby remains handled with 'dignity' after review
Improved care will be offered to women who suffer miscarriages during pregnancy, including new steps to ensure remains are handled and stored with dignity, after a government review.
Parents who lose a baby before 24 weeks should also be able to receive an official certificate if they wish, the Pregnancy Loss Review found.
The Department of Health and Social Care has pledged to act to implement key recommendations made by the independent review of care in England.
The government has committed to creating "a bespoke holder" to allow remains to be collected and stored with due dignity.
In addition, a three-month pilot has been proposed which will see women receive testing and advice following a first, second or third miscarriage, in order to identify any medical conditions they may have and help prevent further loss.
Speaking to Sky News, TV presenter and musician Myleene Klass, who campaigned for change after suffering a miscarriage herself, said helping bereaved parents after baby loss was a "final taboo".
She added forcing women to wait until they had suffered multiple miscarriages before receiving proper help had been a huge "disservice" to their health.
She welcomed the government's proposed changes to care.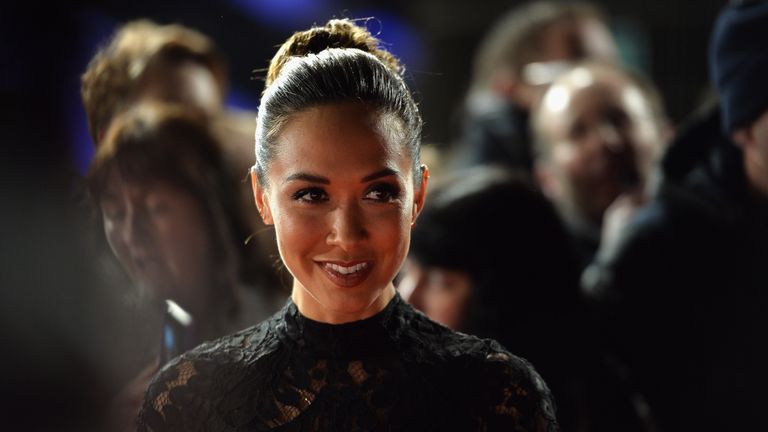 The outcome of a new "graded model of care" will be evaluated at the end of the year.
Other suggested measures in the review to tackle disparities in healthcare for women include extra information and guidance for patients, covering areas such as the menopause and IVF.
Artificial guidance is also being developed to identify early risks in maternity units.
The pregnancy loss review, which made 73 recommendations, concluded that while it currently may not be possible to prevent many pre-24-week miscarriages, much more could be done to support grieving parents.
Opinion from review contributor:
'My miscarriage experiences were horrific'
How changes would offer dignity
Every year in the UK, an estimated 250,000 pregnancies end through miscarriage, affecting an estimated one in five women.
While babies who die after 24 weeks are officially recorded as stillbirths, there is no formal recognition of losses before this time.
To address this, a voluntary certificate will be introduced which eligible parents will be able to apply for. This service could be offered from October onwards, according to the review.
Although not a legal document, the government said: "The purpose of issuing a certificate is to provide comfort and help parents validate their loss."
Action will also be taken to ensure the sensitive collection and storage of remains.
The government response to the review said: "It should never be acceptable that fetal remains are treated like waste products and parents should never be asked to store fetal remains in their own refrigerators until their local gynaecology or laboratory testing services are open."
It added: "While being at home may be a comfort for some women experiencing loss, ministers are clear it is not acceptable for women to be asked to collect and store remains in household receptacles.
"Also, women going through a miscarriage in hospital should not have fetal remains stored or transported in receptacles normally associated with waste products, such as bed pans or kidney dishes."
To prevent this a "bespoke receptacle" will be developed allowing for remains to be "collected and stored with due dignity".
Read more:
MP recounts 'horror' of stillbirth baby that 'did not exist'
Blood thinners do not reduce miscarriage risk, study suggests
Call for paid leave for parents grieving after a miscarriage
Minister's 'dismay' at 'lack of compassion'
The review team said early pregnancy loss "is commonly viewed as a 'clinical episode' and found some healthcare professionals "do not take individuals' emotional and physical pain seriously".
Zoe Clark-Coates, the founder of The Mariposa Trust baby loss charity, who co-led the review, said its recommendations "offer a real opportunity to revolutionise baby loss care in England".
She added: "My passion and long-term commitment is to help all bereaved families, and by the implementation of these recommendations, I believe we will make great strides in addressing the disparities in the care, support, education, and training that currently exist."
Responding to the review, women's health minister Maria Caulfield said: "I read with dismay and sadness about the lack of compassion shown to those who had suffered pre-24-week pregnancy loss and how, in some instances, families were not provided the emotional support they so desperately needed.
"We must do more to support those who lose their babies in early or mid-pregnancy."
She told Sky News the government wanted to end "the three miscarriage rule", where women only received help and support once they had lost three babies during pregnancy.
A pilot for the review's recommendations will run in Birmingham.
'This is the final taboo'
Former Hear'Say singer Myleene Klass, who campaigned alongside Labour MP Olivia Blake for change having both suffered miscarriages, welcomed the proposed changes.
The 45-year-old documented the "hell" she went through in her BAFTA-nominated film Myleene Klass: Miscarriage And Me.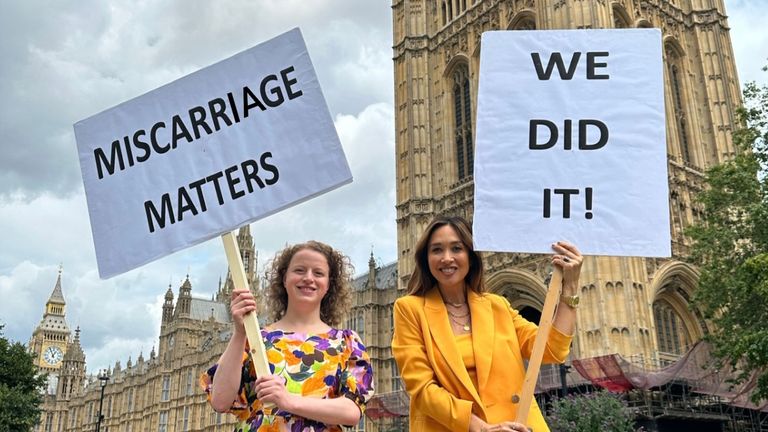 Klass, who has two daughters, Ava and Hero, and a son, Apollo, told Sky News: "This is something that for generations we've been told that it's just one of those things that is swept under the carpet.
"It has done such a huge disservice to women's health care.
"But no more are we waiting, putting up with that kind of treatment. This is the final taboo."
She added: "In no other world would you say that you would have to wait for three heart attacks before you got any kind of help.
"However, we've been asking women to wait for three miscarriages in order to receive a first medical intervention."