More travel misery with deadlocked talks sparking further train strikes as summer getaway begins
Millions of Britons could face travel disruption today as rail strikes continue on one of the busiest travel days of the year.
The continued deadlock between railway unions and the government over pay and conditions will see some parts of the UK having no train services at all, with the RMT holding walkouts.
There is also further disruption from train drivers in the ASLEF union, which has banned its members from taking overtime.
The dispute has deepened in recent weeks too over proposals around the closing of every ticket office in the UK.
Staff will be moved from the offices and onto concourses and platforms, the Rail Delivery Group (RDG) says, but unions fear more than 2,000 jobs will be axed.
But the latest strike action comes as the school summer holidays begin, with travel firm ABTA warning more than two million holidaymakers are expected to escape abroad his weekend.
On Friday as schools broke up, more than 20,000 passed through the Port of Dover with officials warning it could take up to two and a half hours to pass through border checks during peak hours.
Earlier in the year, vehicles were delayed at the port by up to 14 hours as border guards struggled to cope with the volume of traffic crossing on to the continent.
It is expected hundreds of thousands of people will travel out of Heathrow and Gatwick over the coming days, with around 200,000 travelling from Manchester, and a further 71,000 from Bristol, ABTA said.
The Met Office has also warned of travel disruption as downpours start today, with a risk of thunderstorms on Sunday.
It predicts the first two weeks of the holidays will be a washout, but suggests there are signs that indicate the weather could start to become more settled during the second week of August.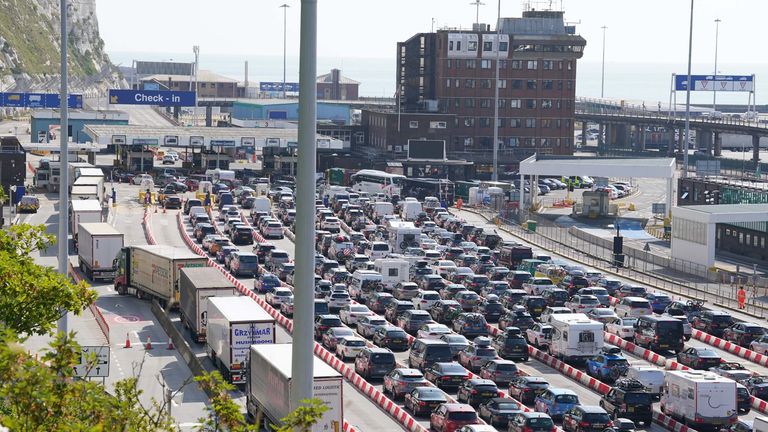 Rail strike action has cost around £620m since June 2022, according to the RDG.
It said in a statement: "This has stalled its post-pandemic recovery and threatens its long-term sustainability, pushing the industry in to a spiral decline and risking consequences like cuts to services to make up the shortfall. Revenue levels are still 30% below pre-pandemic levels.
"The strikes have hit the wider economy – particularly sectors still recovering from the impact of the pandemic which employ hundreds of thousands of people."
Read more:
Train strikes – Full list of July dates, Tube and rail services affected by industrial action
RMT's Mick Lynch insists rail strikes 'have been a success'
RMT general secretary Mick Lynch said his union was still waiting for an invitation to get back to the negotiating table.
"We've been on strike for over a year, this campaign's probably been running for two years," he said.
'We don't want people to be disrupted'

Mr Lynch added: "The issues are the same. They're attacking our jobs. They're making redundancies. They're closing services.
"We haven't had a pay rise for four years and the people that remain, they want to cut our conditions and issue new contracts of employment.
"There is not an agreement in sight at the moment, but we remain available for negotiation with the companies and with the government, but that's up to them to invite us back to the table so that we can work up some solutions to the dispute."
A Department for Transport spokesperson said: "The government has met the rail unions, listened to them and facilitated improved offers on pay and reform. The union leaders should put these fair and reasonable offers to their members, so this dispute can be resolved."