Paul Pogba's 'goal' to end poverty as footballer launches new fund
Former Manchester United midfielder Paul Pogba wants to help tackle the UK's cost of living crisis, telling Sky News that ending poverty is "the goal" of a new ethical fund he is launching.
In an exclusive interview Pogba, 30, recalled queuing with his mother at food banks when he was growing up in France.
"I remember we used to go there when I was four or five," he said.
"They help you with milk, sugar and all this stuff, and my mum used to go there and queue. She was a mother of three and divorced from my father."
He added: "I didn't just come up like this and have money. I struggled and it made me improve and grow. I now have value of money and value of life. I know what it is to struggle. I saw it, my mother did it."
The France international, who now plays for Italian side Juventus, signed for United in 2016 for a then world-record fee of £89.3m, for his second spell with the club.
Seeing poverty was unavoidable when he lived in Manchester, he said, praising his former teammate Marcus Rashford, who helped secure holiday food vouchers for children receiving free school meals.
Pogba, who is a Muslim, said charity is an important part of his faith, adding that high-profile athletes have a social responsibility to help communities.
"I want to help because it can be huge for some people," he said. "It's nothing for us but it can be huge for them."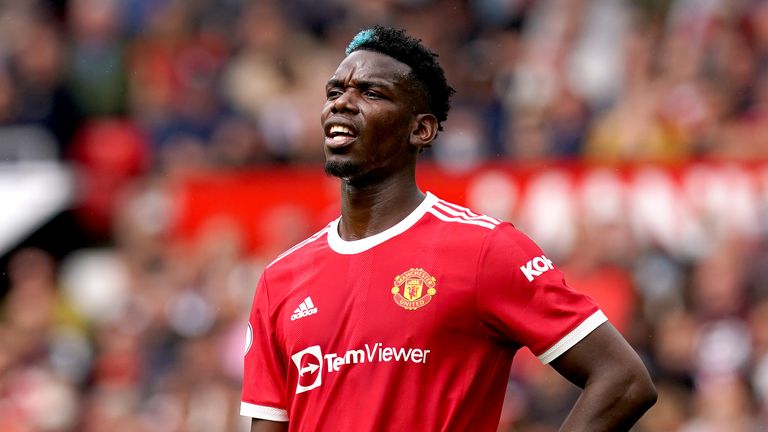 Pogba's fund is based on Islamic principles known as waqf (Arabic for endowment).
Run by a digital investment platform called Wahed, in collaboration with a UK-registered charity, the aim of his new initiative is to create a self-sustaining model of giving.
"Essentially it is a perpetual endowment where you give money that is invested and the income that's generated from that is used for good," explained Wahed's compliance director, Umer Suleman.
Read more:
Balaclava-wearing men drive hearse onto football pitch
Mendy moves to new club after being cleared of rape
Dele Alli opens up on abuse and addiction struggles
The partnership will focus on education, alleviating poverty and sustainable development, guided by the principles of Islamic finance and social responsibility.
The fund has launched in the UK but Pogba says he wants to take it worldwide.
"You have to start somewhere," he said. "You can start with one person then two, then three, and then it will get bigger and bigger.
"We just try to help as much as we can and hopefully if we can touch everyone ending poverty would be the goal."