Philippines v Switzerland: Women's World Cup 2023 Group A – live updates
Key events
30 mins: Bachmann displays a lovely touch to take the ball into her stride before she centres for Crnogorcevic at the back post. Still no finishing touch though and the Philippines survive the latest Swiss attack.
29 mins: Switzerland press forward, seeking to break down the Filipina defence. Maritz is causing problems on the left.
28 mins: Sow lets fly with a weak effort that bounces well wide of McDaniel's goal. Meanwhile the tech proves that Guillou was indeed offside in that earlier incident.
27 mins: Beard again launches it into the box… it's a decent delivery which causes a moment of confusion in the Swiss defence, but they are able to clear their lines in the end.
26 mins: Maritz is penalised now for a bit of persistent niggle on Bolden and Philppines have another free-kick.
25 mins: Crnogorcevic again teases the defence… she finds Reuteler just inside. Reuteler jinks past a few blue shirts but again a final touch is lacking and the move breaks down.
22 mins: That's a good ball from Maritz though, finding Crnogorcevic on the Swiss left. Her ball into the box is mopped up by the Filipinas defence though.
21 mins: More neat approach play from the Swiss comes to naught as Walti attempts to play a first-time ball through, but it pings off her boot and straight through to McDaniel.
20 mins: Switzerland look assured in possession here. They're playing it around the back with a degree of confidence now, as they look to steady the ship following that scare.
17 mins: This has been a very encouraging start from the underdogs. And as we've seen already this tournament, we shouldn't expect all games to go according to standing.
16 mins: Katrina Guillou thinks she's scored here – the ball certainly hits the back of the net after a neat finish – but the offside flag is up and her celebrations will be cruelly cut short. TV replays show the long ball through did indeed find her in an offside position.
15 mins: What a ball that is! Buhler sends a delightful pass forward for Bachmann to run onto… she controls it well but her attempted dink over the advancing McDaniel is collected by the Filipina keeper!
13 mins: Switzerland show a bit of quality out on the right hand side, working the ball nicely to fashion a chance to get a good cross in. But it's well claimed by McDaniel.
11 mins: With the roof on this stadium, the noise really reverberates – it has something of a sports hall feel to it.
8 mins: Beard, of Western United, sends the resulting free-kick over into the Swiss box, but it's overhit and Thalmann is able to claim easily.
7 mins: The noise levels increase whenever the ball goes near the Swiss box – the Philippines are well supported here. Meanwhile, here's an early yellow card for Bachmann for a tug of the shirt.
5 mins: Before kick-off the Filipinas appeared delighted just to be here. This is their first World Cup appearance, and it looks like their determined to enjoy the occasion.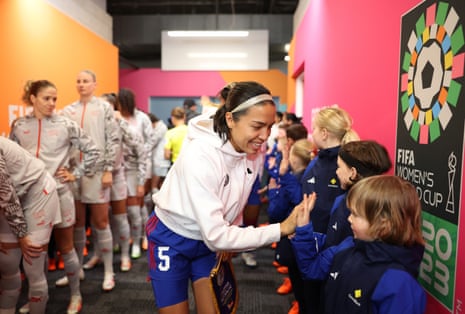 4 mins: Here's an early corner for Switzerland. McDaniel punches clear but the ball falls to Reuteler about 25 yards out… she fancies her chances here, but the ball flies well over the bar and McDaniel is not troubled.
3 mins: We're yet to see a first-half goal this tournament. Can either of these two teams break that duck?
2 mins: Fifa head honcho Gianni Infantino is in the crowd. Wonder how he's feeling today.
1 min: And we're off in the day's second game!
The Swiss are in all white today, Philippines in all blue. The refereeing team are in bright yellow shirts and dark shorts. There's a Canadian in charge of the VAR room today.
Here come the players, out onto the pristine turf of Forsyth Barr Stadium, which for the purposes of this Fifa ™ tournament, will be known as Dunedin Stadium. That's a cracking anthem for the Philippines, very jaunty, one you can really get into. And here's Switzerland, a bit more earnest, but still just as inspiring for the players.
Let's have a look at the starting XIs in Dunedin.
Very much enjoyed enjoying watching No Official Nickname take on the Reggae Girlz earlier today.
The day's first match is done and dusted. At "Melbourne Rectangular Stadium", better known as AAMI Park in Melbourne, a penalty save by Chiamaka Nnadozie to deny Canada's Christine Sinclair gave Nigeria a well-earned point in a result that suits hosts Australia very nicely indeed thank you very much all alone atop Group B. Jo Khan's full report will be arriving shortly, but for now, check out the reaction below:
Switzerland, led by coach Inka Grings, have a more globally recognisable team with several players at top European clubs, and are hoping to get out of their group for the second time, after progressing in 2015. Captain Lia Wälti is widely considered to be their most important player, but PSG's Ramona Bachmann and Barcelona's Ana-Maria Crnogorcevic are also ones to watch.
The Philippines, ranked 46 by Fifa, open their campaign today with slim hopes of getting out of a group containing Norway, New Zealand and today's opponents Switzerland. They may not have been helped by the upset of Norway yesterday and a good result today will be crucial to their chances of progressing, you'd think. Alen Stajcic is a familiar face for many in Australia, having coached the Matildas before his ugly departure, and there are a couple of familiar faces in his team too, such as Sarina Bolden and Angie Beard of A-League Women fame. You can read the full team guide below:
Preamble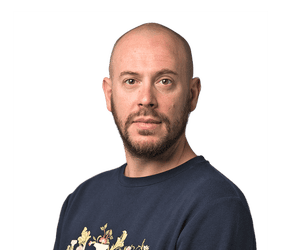 Mike Hytner
Hello, and welcome to our continuing coverage of the Women's World Cup. Day one was, um, eventful to say the least, with a huge upset, an injury drama involving one of the faces of the tournament and record, euphoric crowds in Auckland and Sydney.
What's day two got in store? We've already had Nigeria and Canada in Melbourne (more on that in a bit), and we've got Spain and Costa Rica later on, but for now and for the purposes of this blog, all focus in on Alen Stajcic's Philippines taking on world No 20 Switzerland in Dunedin.
Kick-off is not too far away, but in the meantime, feel free to get in touch with any thoughts on this game, or the tournament more generally – mikehytner@theguardian.com or @mike_hytner.