Rhodes wildfires: British tourist says trying to escape the flames 'was literally like the end of the world'
Escaping the wildfires in Rhodes felt like "the end of the world", a British tourist has told Sky News.
Extreme heat across Greece has triggered a number of fires across the country, with flames in Rhodes burning for the past five days.
A number of locations on the east of the island have been evacuated, which include tourist areas.
Ian Murison, from London, was staying in the Kiotari area of Rhodes, on the southeast of the island, when he noticed the dark clouds pass over his hotel while having dinner on Thursday evening.
Two days later on Saturday, Ian said he was having breakfast on the beach when he noticed the orange sky again, telling Sky News from his rescue boat: "We noticed that the sea had started to become black with soot and actually people were coming out of the sea noticing ash was falling on to their heads.
"I can only describe it as almost a movie experience where everyone's looking into the sky as it got a very strange orange colour, and everybody was just looking around going, 'what's going on?'."
He said his family went to start packing their bags when an evacuation notice sounded – but the hotel manager said they should remain at the hotel instead.
After that, a coach arrived to take women and children away from the resort, but Mr Murison said only 100 or so of the estimated 1,200 people were able to get on board.
He explained how his family walked down the road for around five kilometres and managed to get a ride for another five kilometres or so to nearby Gennadi beach.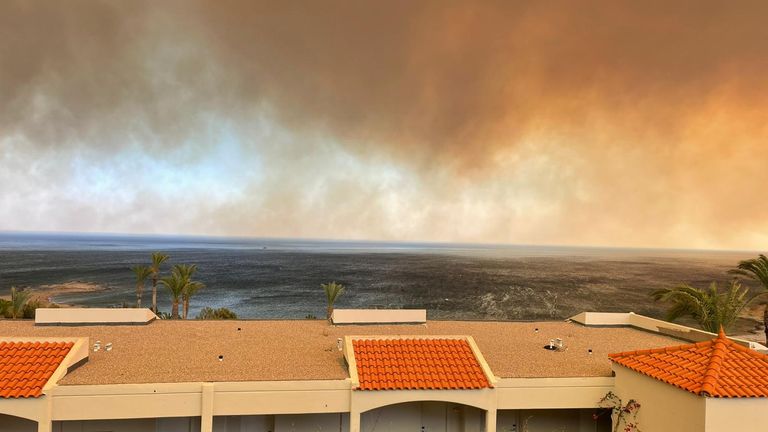 "When we arrived, it was just a few hundred people – there were a couple of cafes and bars and they were serving beers and soft drinks, and everybody was just happy, thinking 'great, we've got away from the fire'.
"And then over the next few hours, the amount of people in that area just increased and increased, and then as light fell, people became increasingly anxious about how they were going to get out from this."
Mr Murison said they were told boats were on their way to collect them, triggering a rush of people to a nearby car park.
"It was literally like the end of the world," he said.
"And the flames were now far more visible because of course it's night time and we couldn't see that during the day.
"Suddenly there were leaping flames into the sky, and the sky was completely orange in the distance – so that sort of set about a level of panic."
Rhodes: Thousands forced to evacuate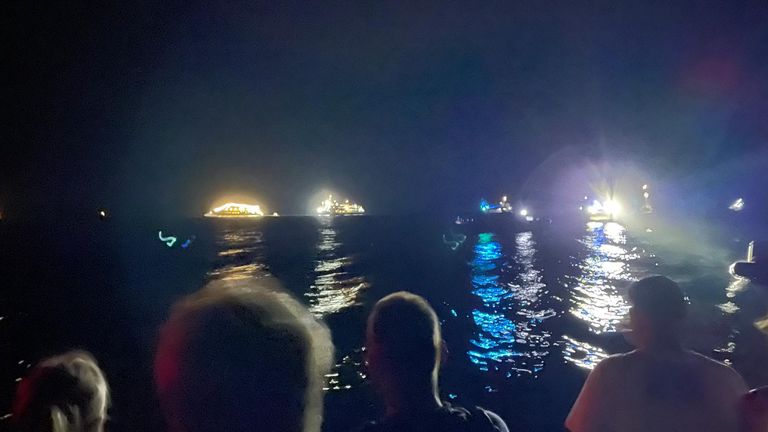 'The beach was littered with suitcases'
Mr Murison and his family made it on to one of the small boats that were taking people to bigger vessels to transport them north to Rhodes Town.
"There were still hundreds of people, maybe a thousand people, on the beach when we left it, and the place was littered with suitcases because they were throwing them off the boats."
Reflecting on his ordeal, Mr Murison said: "The mood was general panic".
"By the time it gets to getting on to the boats and things like that, there's a lot of pushing and shoving, and there's a lot of people, a lot of children crying as well.
"So I'm glad that's all behind us now. Hopefully we can just finish up… in a bit of a calmer mood."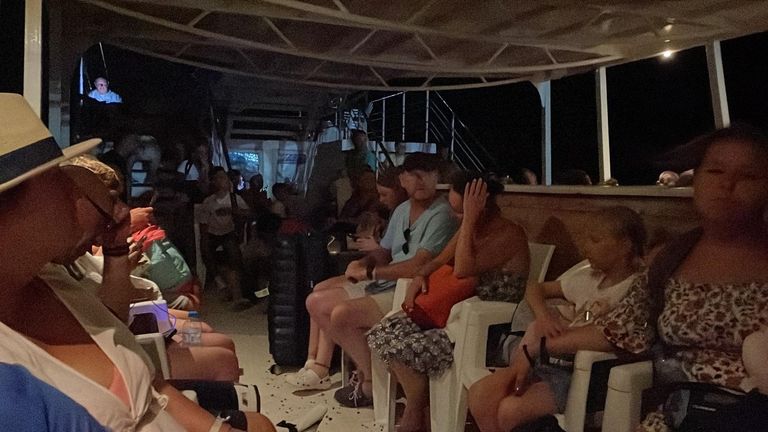 Work continues in Rhodes to fight the inferno, with more than 200 firefighters and 40 fire engines operating on the ground, assisted by three planes and five helicopters.
The force includes 31 firefighters from Slovakia, with five fire engines.
Three coastguard vessels, plus one from the army, were evacuating people from two beaches on Saturday.
More than 20 private boats were also assisting, and the Greek navy was sending a vessel.
Tour operators including Tui, Jet2 and easyJet have all issued statements saying they are working with local authorities to help their affected customers.
Flights largely remain operating as normal.