Russia Strikes Critical Port Facilities In Southern Ukraine After Halting Grain Deal
KYIV, Ukraine (AP) — Russia unleashed intense drone and missile attacks overnight Wednesday, damaging critical port infrastructure in southern Ukraine, including grain and oil terminals, and wounding at least 12 people, officials said.
The bombardment crippled significant parts of export facilities in Odesa and nearby Chornomorsk and destroyed 60,000 tons of grain, according to Ukraine's Agriculture Ministry.
It came days after President Vladimir Putin pulled Russia out of its participation in the Black Sea Grain Initiative, a wartime deal that enabled Ukraine's exports to reach many countries facing the threat of hunger.
It also followed a vow by Putin to retaliate against Kyiv for an attack Monday on the crucial Kerch Bridge linking Russia with the Crimean Peninsula, which the Kremlin illegally annexed in 2014.
The Agriculture Ministry, citing experts, estimated it would take a year to restore the damaged facilities. The destroyed grain was supposed to have been loaded onto a vessel and sent through the grain corridor two months ago, the statement said.
"Such attacks by Russian terrorists are not only affecting our country but also global stability," Ukrainian President Volodymyr Zelenskyy said during a briefing with the visiting Irish prime minister in Kyiv. He said Ukraine needs more anti-aircraft defense systems to protect the port.
Zelenskyy said his government is trying to find a way to maintain a corridor to keep grain exports flowing despite Russia's decision to abandon the deal brokered with the U.N. and Turkey.
"The corridor must be secure. In fact, knowing Russia, it won't be safe unless the U.N. starts working very clearly and firmly at the level of the secretary-general," he said.
Agriculture Minister Mykola Solskyi warned that if Ukraine cannot export food, "the population of the poorest countries will be on the brink of survival! The price of grain will increase, and not all countries will be able to afford buying agricultural products, which means food prices will significantly rise: flour, cereals, meat."
Wheat prices rose more than 2.5% on Tuesday and nearly 8% on Wednesday amid the attacks in Odesa, a key hub for exporting grain, illustrating jitters in global markets. Wednesday's trading price of $7.23 a bushel still was nearly 80% below last year's peak.
German Foreign Minister Annalena Baerbock tweeted that "Putin hasn't just blown up the Black Sea Grain Initiative; now he has hit the port city of Odesa with a hail of bombs for the second consecutive night."
"In doing that, he is robbing the world of any hope of Ukrainian grain. Every one of his bombs also hits the world's poorest," she said.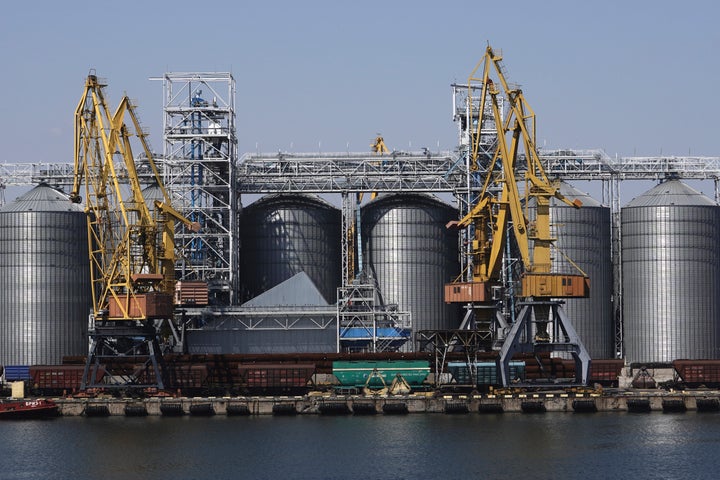 Gov. Oleh Kiper said Oniks and Kh-22 missiles were used to hit grain and oil terminals. Debris from those that were shot down struck apartment buildings, seaside resorts and warehouses, sparking fires and injuring several people.
Video from warehouses elsewhere in Odesa showed firefighters extinguishing blazes, as thick, black smoke billowed from the explosion.
The attacks were part of what Russia's Defense Ministry described as a "strike of retribution" after Monday's attack on the Kerch Bridge, a key span used for military and civilian supplies. The attack, apparently by maritime drones, damaged part of the roadway on the bridge but rail traffic continued.
Ukraine's top security agency appeared to tacitly admit a role in the attack but stopped short of directly claiming responsibility, echoing a response after a strike on the bridge in October 2022 that took months to repair.
Russian emergency officials in Crimea, meanwhile, said more than 2,200 people were evacuated from four villages because of a fire at a military facility.
The blaze forced the closure of an important highway, according to Sergey Aksyonov, the Moscow-appointed head of the peninsula. He didn't specify a cause for the fire at the facility in Kirovsky district.
Elsewhere across Ukraine, authorities reported that drones and missiles were sent against more regions than in recent days.
"A difficult night of air attacks for all of Ukraine," said Serhii Popko, head of the Kyiv City Military Administration, in a statement on Telegram.
He said the attacks were especially fierce in Odesa for a second consecutive night. The Ukrainian army's Operational Command South reported at least 12 civilians were wounded in the region.
The attacks on Odesa injured at least six people, including a 9-year-old boy, showering them with shattered glass and other debris. The remnants of a downed Kh-59 missile created a large crater in another part of the city, wounding three civilians and damaging several buildings.
Eight Iranian-made Shahed drones were also shot down in the wider Odesa region, where two warehouses containing tobacco and fireworks were reported damaged.
Russia also attacked Kyiv with Shahed drones without result, Popko said. Air defenses intercepted all the drones aimed at the capital and a preliminary investigation showed there were no casualties.
Strikes elsewhere in Ukraine in the past 24 hours that killed one person and wounded 21 others.
The death occurred in the northeastern Kharkiv region, near the volatile Kupyansk area, while 10 people were injured in the shelling of seven cities in the Donetsk region, including Avdiivka, Mariinka and Chasiv Yar. Two people were wounded by shelling in the Mykolaiv region and one person was injured in the Kherson region.
Russian drone attacks in the Zhytomyr region damaged some infrastructure and private homes, but no casualties were reported, said Gov. Vitalii Bunechko.
Attacks also were reported in the Poltava and Kirovohrad regions.
USAID chief Samantha Power said the agency will work with the U.S. Congress to provide an additional $230 million to boost Ukraine's economy and reconstruction.
The new funding will help businesses to meet European Union regulations to export more products and services to Europe, an agency statement said. On Tuesday, Power said USAID would provide $250 million in other funds for Ukraine's agricultural sector.
Separately, South Africa's president announced that Putin will not attend an economic summit next month in the country, which faced a legal quandary over whether to arrest the Russian leader on an International Criminal Court warrant related to Ukraine.
Although Moscow has dismissed the warrant and Russia doesn't recognize the court's authority, Putin has not traveled to any country that is a signatory to the court's treaty since he was indicted by the ICC in March for war crimes relating to the abduction of children from Ukraine.
South African authorities had given strong hints they would have likely not executed the arrest warrant against Putin, but South Africa's main opposition party has taken the government to court to try to compel it to arrest the Russian leader if he sets foot on South African territory.
Russia will be represented instead Foreign Minister Sergey Lavrov, according to South African President Cyril Ramaphosa's office. All the other leaders will attend, it said.