The Ashes 2023: England v Australia, fourth Test, day four hit by rain – live
Key events
"On honeymoon in the Azores, I am furtively following the OBO in between volcano visits, hot spring baths and whale sightings… also trying to explain to my lovely wife that my suffering and angst re the cricket has nothing to do with her and that it started long ago as a kid when I would ignore my mother's pleas to go outside and get some sun and tell her to close the curtains as I couldn't see the screen…"
Terry. Go outside and get some sun. And a massage. And a drink with an umbrella in it. There is no cricket here.
"I am in Moscow where I've heard it said that the powers that be ensure that it never rains on the Victory Day parade on May 9th. Does such technology exist and would it be in accord with the spirit of cricket if our government or anyone else tried to use it?" asks Derek.
Might be better than the giant drone-towed tarpaulin idea.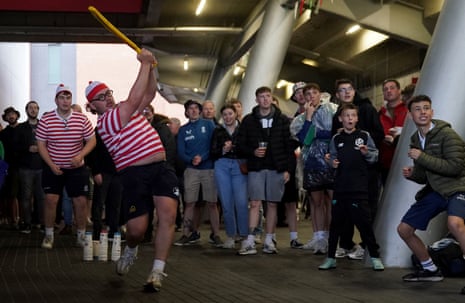 Might be just the tiniest gap in quality between those two, but the visual works.
The best update from the ground so far: sitting alone in the middle of the empty Party Stand, getting soaked, is a bloke with a beard and a nautical hat dressed as Captain Birdseye, and five friends dressed as fish fingers.
"Let's not overthink this or get overemotional, Geoff," commences Paul Griffin. "It's just a game, albeit a glorious, storied one. But at least what happens with the weather over the next 36 hours will clarify, with certainty, and in perpetuity, the existence or otherwise of a just, benevolent God."
"Good morning Michael Fish," writes the intriguingly monikered Showbizguru. "As always the post-stumps deadline-approaching writing from the Guardian team last night was outstanding. Amongst it all this paragraph from Barney Ronay caught the eye. Sublime."
'How maddening for Australia, a place of grizzled truisms, points of red ball honour handed down like a tear-stained baggy green, to find themselves being chased around the set by blokes in bucket hats who feel they've won when they've lost, who are basically doing this for the vibes, who even have the gall in the middle of it all to preach about doing the right thing.'
There is something to that.
"As a windsurfer and an optimist," writes Hugh, "I find myself chasing weather forecasts to find the place that will be windy enough for a trip in the time I have available. This has taught me a key truth: you can always find a forecast that predicts what you want.
"Which is also how I got incredibly drunk in The Doghouse, Kennington, on a very obviously rainy day a number of summers ago when some crucial oval Test match was rained off, rather than admitting that there was little point in travelling up to London."
Yes, I am definitely picking up a theme with our readers.
What is it with OBO readers? Are we all a bunch of lushes? Is there a health intervention needed? Viz, Michael Robinson:
"Enough of your fancy radars and whatchamacallits. From where I'm sitting (lying hungover on my sofa) the rain is lighter than it was when I first woke up, but doesn't like it'll stop for at least a bit."
Highly specific.
"I have a blistering hangover (still) and it is 30+ and humid here in Kanazawa," groans Adam Foster. "I demand the rain gods offer me solace with four hours of uninterrupted play. Everyone wants 2-2 at the Oval, even you Geoff…"
Me? I'm a cricket writer, of course I do. Those four hours might yet come tomorrow. Keep the hangover ticking over till then.
Here's a rain game: if Jonny Bairstow is Duleep Mendis, which 1970s-80s Sri Lankan cricketers correspond to the rest of the squad?
Time for some correspondence, then. The covers are well entrenched at Old Trafford and four poor buggers in red cots are standing out there under umbrellas guarding the pitch from the zero people around. One has the raincoat / poncho / umbrella trifecta. Come at me, rain.
Rob C is in Wheeo. "Watching Bairstow's totally redemptive bottler of an innings last night and then listening to you and Adam describe him in your Final Word podcast this morning prompted me to think: is Jonny Bairstow the batter a latter day Duleep Mendis? Duleep, who had an eye like a stinking fish when he was 'on', along with Eddie Hemmings, is one of my favourite all-time (non-Australian) players. They both 'enjoyed their cricket' and I suspect Jonny does too. I'm warming to him."
He was fun in the press conference, and the after play radio stuff, the works. Both barrels, all directions. If a quiet moment presents itself I'll put the Duleep Mendis comparison to him. Not sure he's given that one much thought.
Here's a thought. Those rainfall probability numbers in all of your apps – does anybody know what those numbers actually mean?
Last from our slate of writers, the subject of the hour – Bairstow being Very Mad, and taking that out on a passing cricket team. This one from Andy Bull.
Ok, it's 11am and I must concede that we are not going to start on time.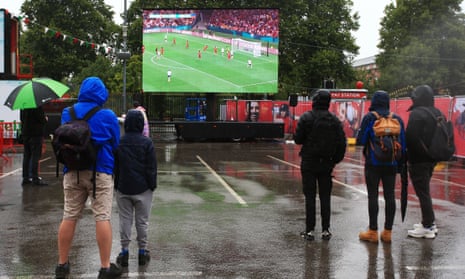 I wouldn't disagree with that assessment. It's been quite impressive to see how completely Australia lost cost control in this one innings, after mostly keeping things together in the series to date.
And if for any reason you have time to fill, here's the Final Word wrap podcast from stumps yesterday.
Barney Ronay wrote about the duelling philosophies of this series, and how England's has regained the ascendancy.
"And that pressure has been gruelling. Australia were ragged in the field in the afternoon session. Pat Cummins, usually so startlingly handsome and bright-eyed, spent Friday wandering around looking as if he's been sleeping in his car."
Jonathan Liew spent his day thinking about Harry Brook, because why not look below the headlines for the interesting subplots. Brook has been a significant player these last few weeks, after his grand entrance to Tests in the months before that.
Simon Burnton has the press conferences, with Jonny Bairstow being a little fired up and Josh Hazlewood saying yes please, rain.
Which means that first of all, we should prepare for our day's play* by catching up with everything from yesterday. Begin, as ever, with the cleansing sorbet of Ali Martin and his world famous match report.
That said, your initial weather update is that it is hosing all over the joint. Today has been pitched as the big grudge match: AccuWeather versus The Met Office. So far the Met's more pessimistic forecast is winning, damp palms down.
Let's pretend we're going to start at 11!
Alright, pals. We know the drill. We know there's rain about. But for the first part of this live blog whatchamacallit, we're going at act as though none of that is happening. We're going to pretend it's sweet. We'll play nice. Capiche?
It's the fourth Ashes Test. It's day four. England have the match in their grasp. Four wickets down, the Australians, which is a massive dent even if they do bat until eight. Well in arrears, to the tune of 162 runs.
Meaning England just need to take six more wickets, and maybe to chase something if Australia are good enough to get that far. It's down to whether the weather allows.