'This Is a Witch Hunt': Michigan GOP Responds to Criminal Charges Against Trump 2020 Electors
The Michigan Republican Party has issued a sharply critical reaction to the Michigan Attorney General's decision to bring criminal charges against 16 people who signed certificates claiming that President Donald Trump won Michigan in the 2020 election.
"This is a witch hunt designed to prosecute and punish citizens who are duly elected and perform a major function in presidential elections," said Macomb County GOP Chairman Mark Forton at a July 19 press conference in Lansing.
Mr. Forton's remarks pertain to Michigan Attorney General Dana Nessel's announcement a day earlier of multiple felony charges against the 16 individuals whom she labelled as "false electors."
The Michigan AG's office said that the defendants met at the Michigan Republican Party headquarters on Dec. 14, 2020, and signed their names on multiple certificates attesting to being the "duly elected and qualified electors" for President and Vice President of the United States for the State of Michigan.
"That was a lie," Ms. Nessel said at a press conference Tuesday. "They weren't the duly elected and qualified electors and each of the defendants knew it."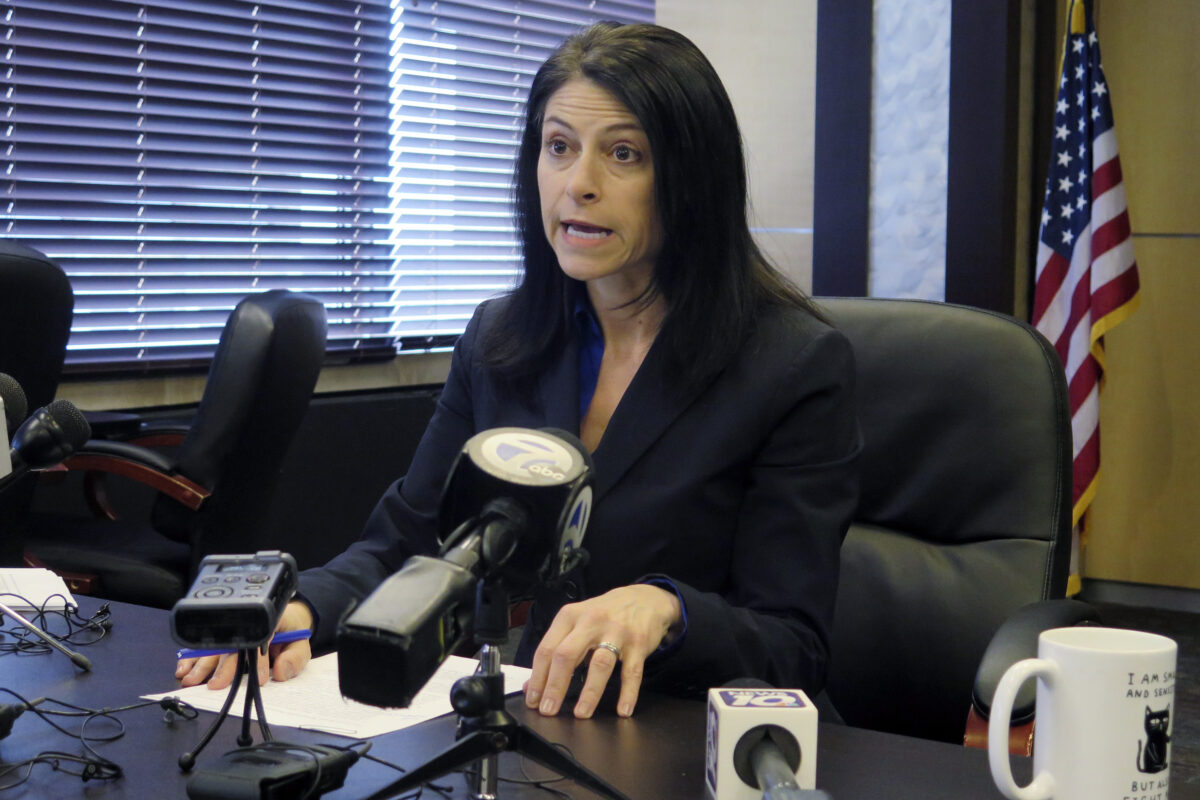 The certificates that the 16 individuals signed were subsequently transmitted to the U.S. Senate and the National Archives in what Ms. Nessel's office described as a "coordinated effort" to hand the state's electoral votes to a different candidate than the one actually elected by the people of Michigan.
"The evidence will demonstrate there was no legal authority for the false electors to purport to act as 'duly elected presidential electors' and execute the false electoral documents," Ms. Nessel said in a statement.
Each of the accused faces multiple felony counts that in total carry a maximum penalty of 85 years in prison.
Mr. Forton disputed Ms. Nessel's characterization of the 16 accused as "false electors."
"This current quest by the socialist Democrats to eliminate the [Electoral] College is now spilling over to criminally attack a group of 16 legally elected electors on the Republican side for the 2020 election," he said at the press conference.
"The 16 individuals under attack are not fake electors," he continued, adding that they were legally elected under Michigan law at convention to represent the Republican Party as electors.
The Michigan AG's office did not immediately respond to a request for comment. However, Ms. Nessel said during a press conference on Tuesday that she is expected to hear claims that the prosecution is politically motivated.
Michigan Democrats, by contrast, praised Ms. Nessel's decision to bring criminal charges.
"I am so grateful our attorney general stepped up and issued charges against these folks," said LaVora Barnes, the current Chair of the Michigan Democratic Party, per CBS.
"These Republicans attempted to undermine the very foundation of our democracy pretending they were indeed the duly elected electors knowing that they weren't," she continued. "It's shocking to me that it happened in the first place."
Dueling Electors
Following Mr. Trump's claims of fraud in the 2020 presidential election, Republican electors in seven states—including Michigan—cast alternative slates of votes for Mr. Trump.
Republicans in some of the states said that the rationale for casting alternative slates of elector votes would preserve Mr. Trump's legal claim for the election as legal challenges made their way through the courts.
The idea of competing or dueling electors is not new in American politics, Mr. Forton pointed out in the press conference Wednesday.
"It's happened many times in American history by both Democrats and Republicans in contested elections," he said.
The precedent of dueling electors in U.S. presidential elections was also put forward as an argument by Meshawn Maddock, former co-chair of the Michigan Republican Party, and one of the individuals facing charges.
"Sending more than one slate of electors is not unheard of," Maddock said in an emailed release in December 2020. "It's our duty to the people of Michigan and to the U.S. Constitution to send another slate of electors if the election is in controversy or dispute—and clearly it is."
The U.S. president is selected by 538 electors, known as the Electoral College, with electors apportioned based on the population of each state. Typically, the popular vote in each state determines which candidate receives a state's electoral votes.
In 1876, a deadlock ensued among dueling electors in three states. However, just days before Inauguration Day, a resolution was found through a negotiated agreement.
At the time, Republican candidate Rutherford B. Hayes assumed the presidency in exchange for the withdrawal of remaining U.S. troops from Southern states.
The Charges
According to Ms. Nessel's office, each of the 16 accused faces multiple felony counts: forgery, conspiracy to commit forgery, "uttering and publishing," and conspiracy to commit "uttering and publishing," which is a crime related to counterfeiting important documents and then trying to pass them off as legitimate. Each of these four counts carries a maximum penalty of 14 years in prison.
The defendants each face two other charges: election law forgery and conspiracy to commit election law forgery, each of which is a felony that carries a maximum sentence of 5 years behind bars.
In addition to Ms. Maddock, the individuals who face charges are Kathy Berden, a Republican National Committeewoman from Michigan; William (Hank) Choate; Amy Facchinello; Clifford Frost; Stanley Grot; John Haggard; Mary-Ann Henry; Timothy King; Michele Lundgren; James Renner; Mayra Rodriguez; Rose Rook; Marian Sheridan; Ken Thompson; and Kent Vanderwood.
Attorneys for the defendants were not immediately available for comment.
While Mr. Trump has not issued any public comments with respect to the charges announced by Ms. Nessel, he issued a statement on Tuesday in which he continued his claims of "massive fraud" in the 2020 presidential election.
"Under the United States Constitution, I have the right to protest an Election that I am fully convinced was Rigged and Stolen, just as the Democrats have done against me in 2016, and many others have done over the ages," Mr. Trump wrote in a post on Truth Social.