This is Rigged climate protesters block gates to Scottish oil sites
Eleven people have been arrested in climate protests which targeted two oil sites in Scotland.
Police attended demonstrations on Wednesday by activists from the This is Rigged group at the Ineos refinery in Grangemouth, Fife, and at the Nustar Clydebank oil terminal in West Dunbartonshire.
The demonstrators claimed to have stopped oil leaving the sites after sitting on pipes and on top of a tanker.
The campaign group posted on Twitter: "Grangemouth supplies 90% of Scotland's oil. We have stopped oil leaving this site, as well as Nustar Terminal in Clydebank. We have no plans to stop.
"Groups of people are currently occupying pipework and a fuel silo and blockading terminal gates, while another group has immobilised a car park full of tankers at the Grangemouth facility.
"No fuel can leave the sites while they are occupied.
"The action is the first in a sustained series of actions, in which the group has vowed to shut down the Scottish oil industry."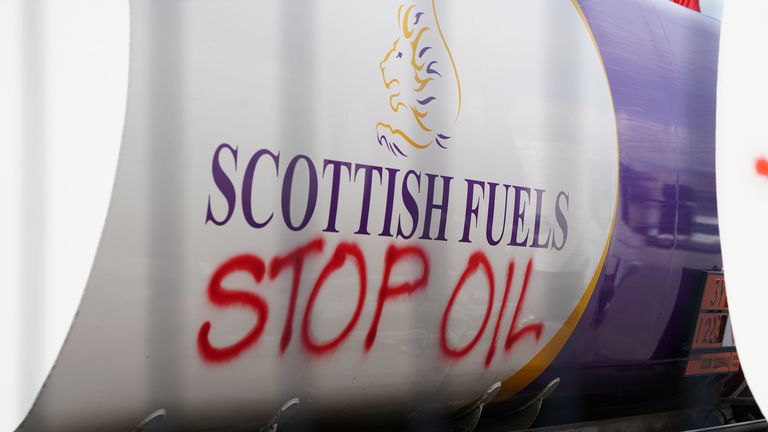 This is Rigged urged the Scottish government to bring a "just transition" for oil and gas workers "instead of assisting billionaires like Ineos owner Jim Ratcliffe".
A spokesperson for Ineos earlier said the Grangemouth terminal was "temporarily closed to traffic" over safety concerns.
"We are aware of a number of protesters at the Grangemouth Road Terminal, and we have mobilised our incident management team," the spokesperson said.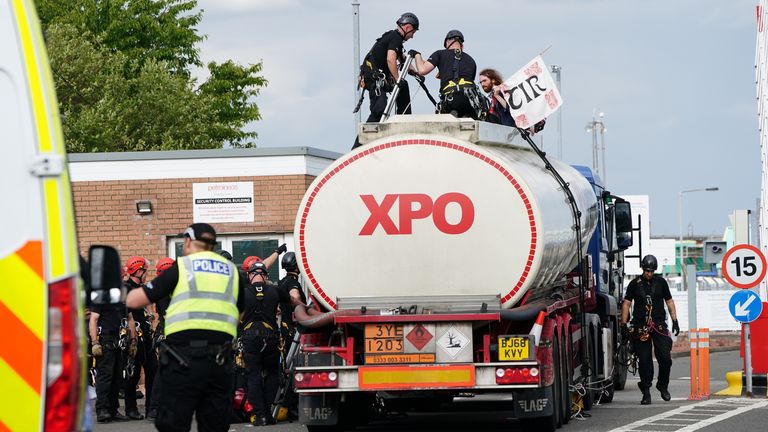 "We are continuing to monitor the protest activity at the terminal, and we are liaising with Police Scotland, prioritising the safety of all those involved.
"Our manufacturing operations remain unaffected and, to prioritise the safety of all involved, we have temporarily closed the terminal to all traffic.
"We recognise the important part we are playing in addressing the climate challenges that lie ahead," they added.
Read more:
Oil court battle could set precedent that triggers 'beginning of the end' of new fossil fuel projects in UK
UK at risk of falling behind in race to become green hydrogen global leader, leading firm says
Just Stop Oil protests have cost Metropolitan Police £4.5m in six weeks
"Our operations, products and people are key to delivering the solutions that will drive the move towards net-zero emissions and the circular economy.
A Police Scotland spokesperson said: "Police Scotland have made a number of arrests following protests at the Ineos site in Grangemouth today.
"Eleven people have been arrested and officers remain in attendance."
Nustar was also contacted for comment.