Trump Says Mainstream Media Is Lying About Russia–Ukraine War
Former President Donald Trump said Tuesday evening that mainstream media outlets are lying about the Russia–Ukraine war by not reporting the true death toll and destruction.
In an event with Fox News host Sean Hannity, Mr. Trump again said that he would push to end the war. In that event, the former president said that he believes the death toll is far greater than what is being carried in reports, noting that there are cities with totally destroyed buildings.
"You have cities with no building standing. It looks like just a demolition zone. It's so horrible and, you know, and then they'll say two people were hurt," Mr. Trump told Hannity.
"Hundreds of people and thousands of people were killed. You're gonna find out when this whole thing is over that the number of people killed is far greater than they tell you. They're not telling you the truth. Many, many thousands, hundreds of thousands of people are dying. Their cities are being obliterated."
Mr. Trump added that regarding the conflict, "I'm for one thing, very simple … I want to stop people from getting killed and I'll have it stopped, fast."
It comes days after the former commander-in-chief explained how he would end the conflict, which erupted in February 2022. Mr. Trump said that he knows both Ukrainian President Volodymyr Zelenskyy and Russian President Vladimir Putin and "had a very good relationship" with the pair.
In a Fox interview with Maria Bartiromo, Mr. Trump said if he's elected, he would tell Mr. Zelenskyy, "No more, you gotta make a deal." And he would tell Mr. Putin: "If you don't make a deal, we're gonna give them a lot. We're gonna give more than they ever got."
Mr. Trump also claimed that Mr. Zelenskyy is "honorable" because when he was asked about a 2019 phone call that became the subject of the first House Democrat-led impeachment effort, Mr. Zelenskyy "didn't even know what they were talking about." During that call, Mr. Trump spoke with Mr. Zelenskyy about U.S. aid and looking into allegations around President Joe Biden's dealings in Ukraine.
However, Mr. Zelenskyy has recently been critical of Mr. Trump's comments about ending the war, claiming he wouldn't be able to do it quickly. The Ukrainian president also recently said he's concerned that some of the Republican 2024 presidential candidates wouldn't be supportive enough of his government's efforts against Russia.
In May, Mr. Trump said that if he is elected, he would "end that war in one day," and it would "take 24 hours" to do so. "I know Zelenskyy well, I know Putin well. I would get that ended in a period of 24 hours," he remarked. "It would be easy, that deal would be easy."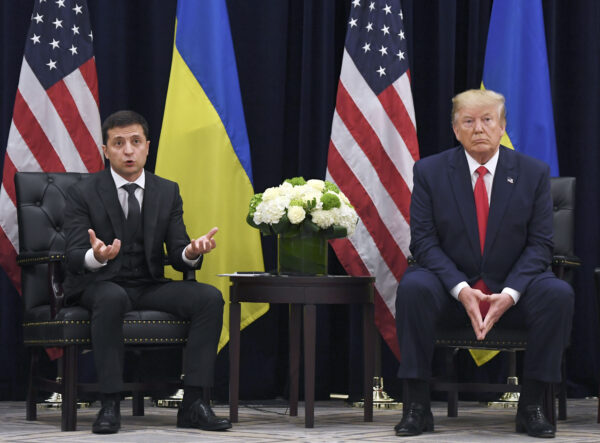 Also in the event with Mr. Hannity, the former president also railed against a Department of Justice investigation targeting his statements and efforts after the 2020 election. It came hours after Mr. Trump said he was served with a target letter in the case.
"They're in a rush, because they want to interfere. It's interference with the election. It's election interference," he said of the letter. "Never been done like this in the history of our country, and it's a disgrace."
Ukraine War in Focus
The war in Ukraine, meanwhile, has become a recent topic of discussion among Republican 2024 hopefuls. Over the past weekend, former Vice President Mike Pence was questioned in an interview with former Fox News host Tucker Carlson about the war and his priorities for Americans.
Mr. Carlson, in an event in Iowa, questioned Mr. Pence's statements that he would send arms to Ukraine while the United States faces serious domestic issues. At one point the former host said that "every city" in the United States has become "worse over the past three years" and "public filth and disorder and crime have exponentially increased. And yet your concern is that the Ukrainians … don't have enough tanks."
"Where's the concern for the United States in that?" he asked.
In response, Mr. Pence said that his position was being mischaracterized: "Tucker, I've heard that routine from you before. I'm running for president of the United States because I think this country's in a lot of trouble. I think [President] Joe Biden has weakened America at home and abroad."
Mr. Pence has often called for robust aid to the Ukrainian military, and said Washington's commitment to keeping Russia in check signals its willingness to also hold China's military ambitions in check in Asia.
"With all due respect, I think the former president and the governor of Florida just don't understand Americans' national interest in supporting the Ukrainian military in repelling the Russian military in Ukraine," Mr. Pence said earlier this month. "I mean, we're in the heat of the fighting season. Ukrainians are making progress," he also said. "I really believe we ought to pay heed to the first half of the 20th century."
The Associated Press contributed to this report.