Voting under way as Spain holds early general election | BreakingNews.ie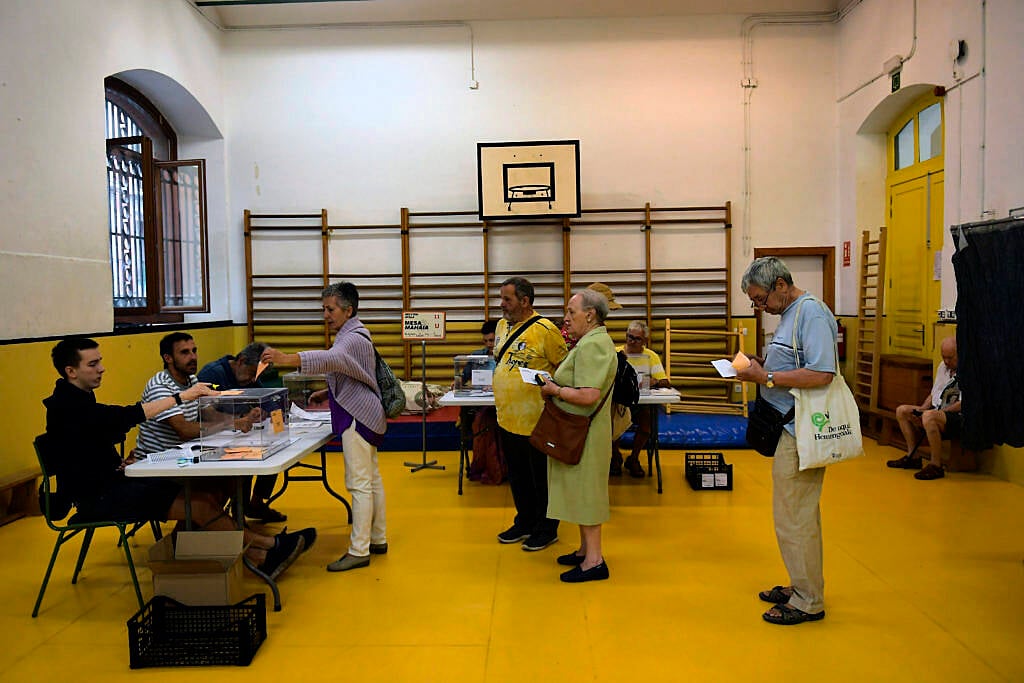 Polling began in Spain in a general election that could make the country the latest European Union member to swing to the political right.
Prime minister Pedro Sanchez called the early election after his Spanish Socialist Workers Party and its far-left partner, Unidas Podemos, took a severe beating in local and regional elections in May.
Mr Sanchez has been premier since 2018.
Most opinion polls for Sunday's voting have put the right-wing Popular Party, which won the May vote, ahead of the Socialists but likely needing the support of the extreme right Vox party if they want to form a government.
Such a coalition would return a far-right force to the Spanish government for the first time since the country transitioned to democracy in the late 1970s following the nearly 40-year rule of dictator Francisco Franco.
A PP-Vox government would mean another EU member has moved firmly to the right, a trend seen recently in Sweden, Finland and Italy.
Countries such as Germany and France are concerned by what such a shift would portend for EU immigration and climate policies.
Spain's two main leftist parties are pro-EU participation.
On the right, the PP is also in favour of the EU, but Vox is not.
PP leader Alberto Nunez Feijoo said: "It is clear that many things are in play, what model of country we want, to have a solid and strong government."
The election comes as Spain holds the EU's rotating presidency Mr Sanchez had hoped to use the six-month term to showcase the advances his government had made.
An election defeat for Mr Sanchez could see the PP taking over the EU presidency reins.
Mr Sanchez was one of the first to vote, casting his ballot in a polling station in Madrid.
Commenting later on the large number of foreign media covering the election, he said: "This means that what happens today is going to be very important not just for us but also for Europe and I think that should also make us reflect."
"I don't want to say I'm optimistic or not. I have good vibrations," Mr Sanchez added.
The Socialists and a new movement called Sumar that brings together 15 small leftist parties for the first time hope to pull off an upset victory.
With no party expected to garner an absolute majority, the choice is basically between another leftist coalition and a partnership of the right and the far right.
Polling stations for the 37 million voters opened at 9am (0700) GMT and will close at 8pm (1800 GMT).
Near-final results are expected by midnight.
The election takes place at the height of summer, with millions of voters likely to be vacationing away from their regular polling places.
But postal voting requests have soared, and officials have estimated a 70% election turnout.
Coming on the tail of a month of heat waves, temperatures are expected to average above 35Cs (95F) and to rise between five and 10 degrees Celsius above normal in many parts of the country Sunday.
Mr Sanchez's government has steered Spain through the Covid-19 pandemic and dealt with an inflation-driven economic downturn made worse by Russia's invasion of Ukraine.
But his dependency on fringe parties to keep his minority coalition afloat, including separatist forces from Catalonia and the Basque Country, and his passing of a slew of liberal-minded laws may cost him his job.
The right-wing parties dislike everything about Sánchez, saying he has betrayed and ruined Spain.
They vow to roll back dozens of his laws, many of which have benefited millions of citizens and thousands of companies.