Wildfires on Rhodes force hundreds of holidaymakers to flee their hotels
Wildfires on the Greek island of Rhodes have forced hundreds of holidaymakers to flee their hotels.
Images show the skies above the island full of smoke with the orange hue of the flames clearly visible.
Four locations close to the areas of Kiotari and Lardos in the southeastern part of the island have been evacuated.
Users on social media have been describing the scene, with Paul Karlburgi writing on Twitter: "Currently stranded in #Rhodes escaping the wildfires on foot – left everything at the hotel and fled with towels across our faces.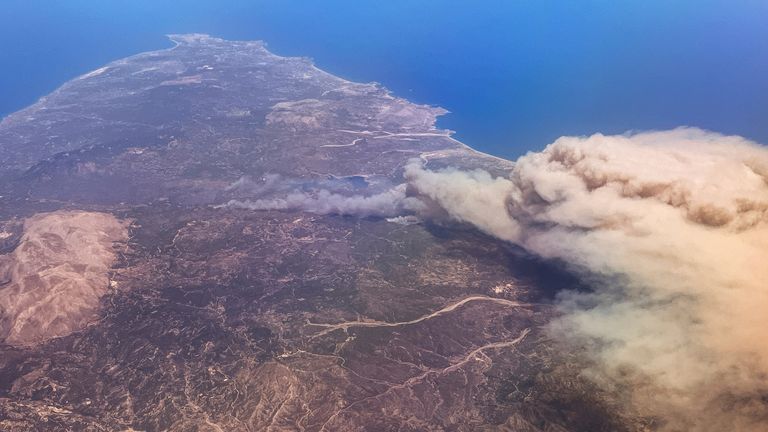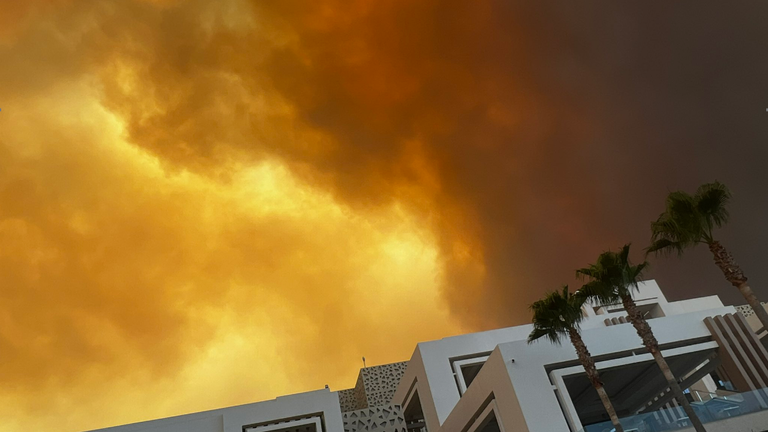 "My youngest just told me he doesn't want to die. No news from any authorities. Terrifying situation here."
The flames have reached three hotels, which have also been evacuated, according to local media reports.
Fire Service spokesman Yannis Artopios said more than 200 firefighters and 40 fire engines were operating on the ground, assisted by three planes and five helicopters.
The force includes 31 firefighters from Slovakia, with five fire engines.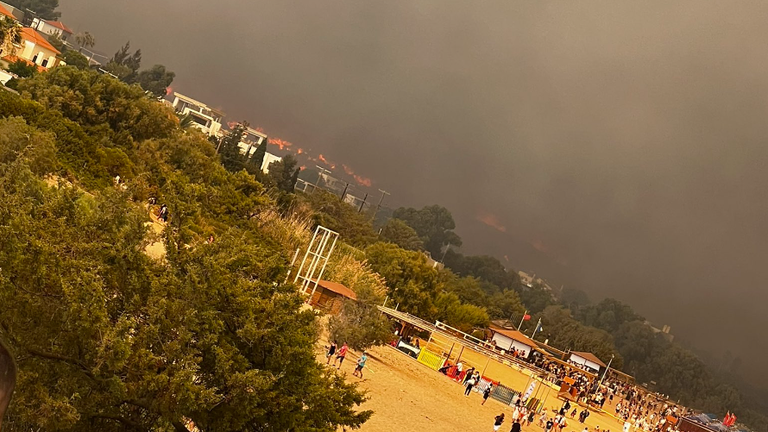 Three coast guard vessels, plus one from the army, were evacuating people from two beaches. More than 20 private boats were also assisting and the Greek navy was sending a vessel.
Mr Artopios added that that the residents of four localities were sent SMS messages to evacuate – in two localities they were told to move to the northeast and, in two others, to the southwest.
Wildfires have been plaguing Greece for days as a result of the heatwave ongoing across southern Europe.
Another tourist, David Woodhouse, said fires are spreading and smoke is encompassing much of the island.
James Hall took to social media to ask: "@easyJet mind giving us some advice? We've got a plane to catch at 11 & looks like our hotel is on fire."
Freelance TV producer Daphne Tolis said: "More than 1000 people evacuated by sea so far on #Rhodes as the #wildfire is raging. The Coastguard has ordered nearby yachts and private boats to assist evacuation operations by sea."
Holidaymaker Jon Hughes tweeted: "Jet2 where are you? No help, contact or guidance. Had to walk 4 mile in the heat across dirt tracks in smoke and ash with a 5 year old. No possessions #jet2 #rhodes #lindosimperial"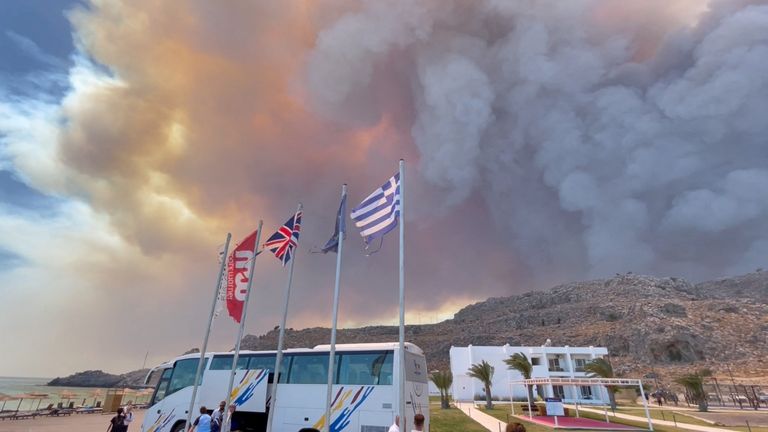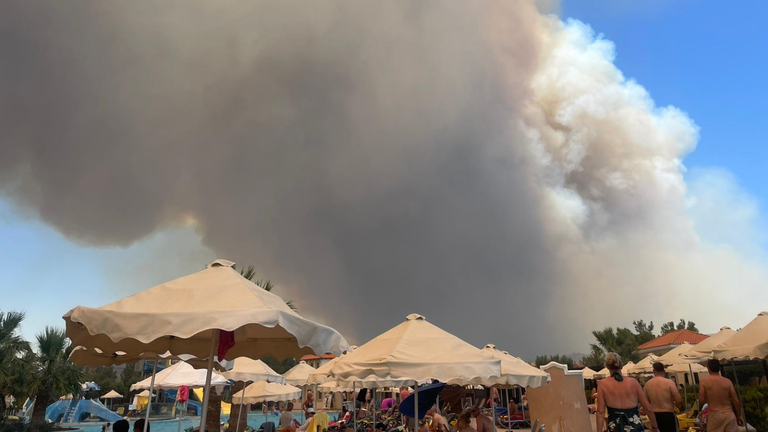 The blaze in Rhodes was just one of several active across Greece, Mr Artopios said.
The fire northwest of Athens and one near Sparta were subsiding, he said, although the conditions, including temperatures set to reach 45C on Sunday and low humidity (below 15%), mean that the danger is not over and more wildfires might break out.
Read more:
Wildfires tear through towns in Greece as thousands flee
How will the heatwave impact your holiday
British holidaymakers changing plans amid heatwave
The Fire Service has designated almost the whole eastern part of the mainland, plus the islands of Evia and Rhodes as well as large swaths of the southwest, as Category 5, the highest for the risk of fire outbreaks Sunday.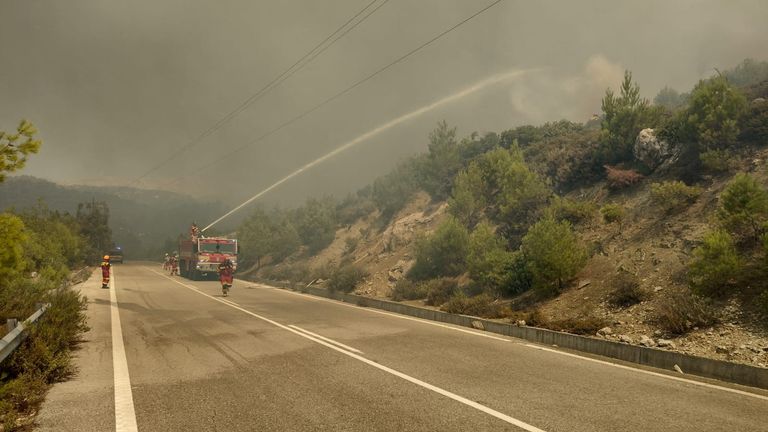 A further chunk of the country has been designated Category 4, just one notch down on the risk level.
There will be a brief respite in the heat wave Monday, but it will resume Tuesday and could last until at least Friday, meteorologists have warned.
Firefighting forces from eight European Union countries are either operating or due to arrive soon, Mr Artopios said.
Israel, Jordan and Turkey have also sent reinforcements, mostly aerial equipment.