Women's World Cup will embolden footballers to fight for the pay they deserve – despite FIFA's actions
Everything you will see at the Women's World Cup the players had to fight for.
To be allowed to play football. To be able to compete at a FIFA event. And to be paid to be able to dedicate themselves to the sport.
The next month in Australia and New Zealand will undoubtedly be the biggest stage yet for the women's game with an expanded 32-team festival of football.
And England will be feeling the pressure. As European champions, Sarina Wiegman's side should be challenging for a first World Cup – despite injuries to key players.
The commitment of the co-hosts promoting the tournament should provide the buzz lacking across much of France in 2019 when England finished fourth under Phil Neville.
And globally the increased profile of players and their teams – and improved media coverage – should generate unprecedented interest.
Little wonder FIFA President Gianni Infantino declared this week in Auckland that "you'll hear from me only positive things" until after the final.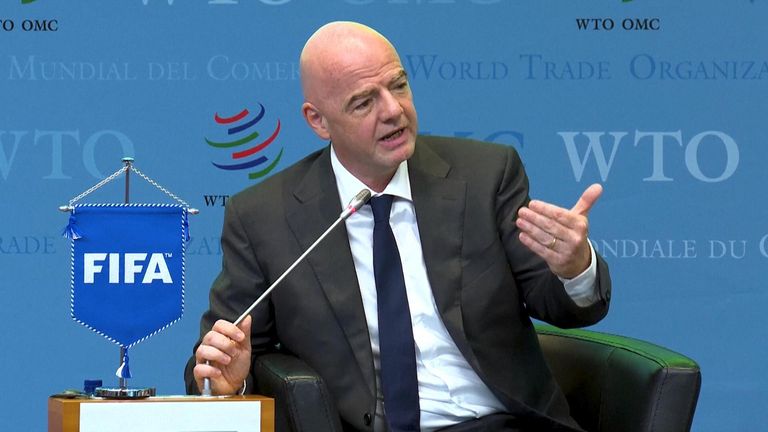 That does chime in part with the message from the England camp about putting their internal dispute over team bonuses on hold until after the tournament.
Read more:
Why are women footballers facing an 'epidemic' of ACL injuries?
Women's World Cup warm-up match abandoned after 20 minutes for 'overly physical' challenges
But as veteran defender Lucy Bronze said of their collective activism: "It's a very empowered player group."
And across women's football – empowerment is the watchword.
Why are players being guaranteed minimum pay from FIFA for the first time? Because of pressure exerted on Mr Infantino by players and their global union, FIFPRO.
"It just shows what happens when players come together united behind very clear principles for change for themselves, but also a legacy for players to come," said Sarah Gregorius, a former New Zealand player now leading FIFPRO on women's football.
Sky's Nicole Johnston explains everything you need to know.

The stadium in Lyon boomed to chants of "equal pay" four years ago as the Americans lifted the World Cup.
That is yet to be achieved. Far from it.
England collected $17m (£13m) for the men reaching the quarter-finals at the Qatar World Cup last year, while champions Argentina banked $42m (£32.5m).
The country that collects the Women's World Cup in Sydney on 20 August will only bank $4.3m (£3.3m).
FIFA has effectively blamed rights-holder broadcasters for maintaining disparities by not paying enough to show the games.
But this is a governing body with $4bn (£3.1bn) in cash reserves.
That makes it harder to justify a prize pool of $440m (£340m) for the 32 men's teams in Qatar and $209m (£161.7m) for the clubs of players when that total is only $152m (£117.6m) for the Women's World Cup.
FIFA will point to the rise from $30m (£23.2m) from the France 2019 prize fund – but eight more finalists have also been added.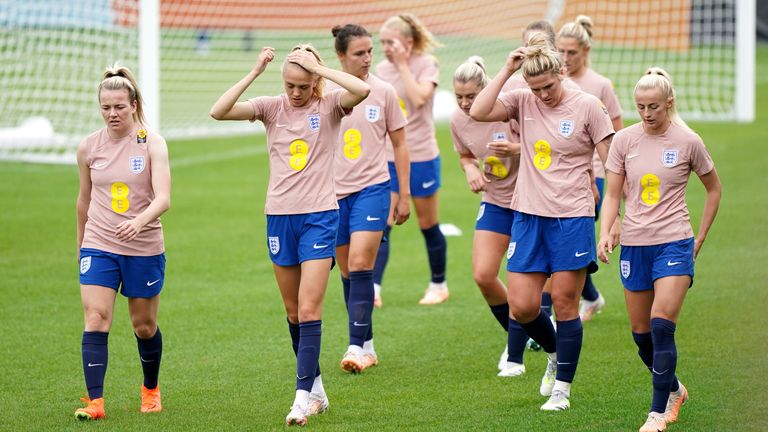 And then there is the guaranteed squad pay now – from $30,000 (£23,200) for players who exit in the group stage to $270,000 (£208,800) for each of the champions.
It is a significant commitment – secured by FIFPRO – given that FIFA's last published research showed the average global salary for female professional players is only $14,000 (£10,800) and many countries still lack professional women's leagues.
But the cash will still go to the national football associations rather than the players directly – another barrier that might have to be overcome.
And the players are still feeling marginalised by FIFA beyond pay.
Captains, including England captain Millie Bright, have been banned – just like the men in Qatar – from being allowed to wear "One Love" multicoloured armbands featuring a heart.
Lioness stars Beth Mead and Leah Williamson are out of the England women's football team with ACL injuries, but they're not alone.

They would have obliquely referenced LGBT+ rights at a tournament with so many out gay players, including Australia captain Sam Kerr, who said: "Obviously, we would have liked to have worn it, but I'm not going to put this team at risk."
While there is an armband very similar to the One Love armband among the approved options, FIFA made a point of telling the media that the colours should not be considered a rainbow or representing LGBT+ pride.
Perhaps FIFA was unwilling to cave in again having dropped Visit Saudi as a tournament sponsor under pressure from Australia and New Zealand, as well as the players, over the kingdom's anti-gay laws.
That lobbying made clear the players won't be silenced on a platform they were denied for so long.
While the men's World Cup started in 1930, FIFA only sanctioned a women's world championship in 1991 and then allowed the World Cup brand to be used later.
And while Mr Infantino wants a purely positive focus for the next month, so many players are determined the World Cup spotlight won't just be used to showcase their skills.
There are battles for equality still to be won with FIFA and in their home countries. Playing at the World Cup will only embolden them to fight for the parity deserved – and earned.